How Much Does Roto-Rooter Cost?
Roto-Rooter is a trusted plumbing, drain and water cleanup company. The question, "how much does Roto-Rooter cost?" comes up often. But there is no easy answer because Roto-Rooter offers so many different residential services as well as a long list of commercial services. Additionally, Roto-Rooter does business in almost every U.S. city and throughout Canada too. That means our cost of doing business varies by location (rent, utilities, licensing, etc). All of which must be figured into the cost of the services we provide in a particular city and state.
Suffice it to say, Roto-Rooter is cost competitive with other plumbing and water restoration companies offering similar levels of service. If you've called many plumbers then you know most will not quote prices over the phone because no two jobs are alike. Plumbers don't like to quote prices until they've laid eyes on the customer's plumbing problem to determine exactly what it will cost to fix.
Roto-Rooter is no different. We won't speculate about your problem to quote a "guestimate" price over the telephone. Why? Because we may not be able to honor that price once we've actually seen the full extent of the problem with our own eyes. If we're off by a mile on our phone quote, you'll be angry and think of it as "bait and switch" if we have to increase our estimate.
Here's how a Roto-Rooter service call works*: When you call Roto-Rooter, we'll ask you to describe your problem as best you can. One of our plumbers will come straight to your home or business. In most instances, we'll be there in two hours or less! Many plumbers won't get to you for days. Your Roto-Rooter plumber will assess the problem in person then provide a full cost estimate for making the necessary repairs. If you accept the estimate, he'll get busy repairing the problem right away. If you decline the estimate, he'll leave, and you'll likely pay nothing at all. Most Roto-Rooter locations* do not charge trip fees or for estimates.
The cheapest guy in town* may not be your best bet if he's unlicensed, doesn't carry liability insurance and doesn't pull plumbing permits with the local regulatory plumbing authority. Everybody loves a bargain, but the service won't be a good deal if the technician doesn't have liability insurance and damages your home with a flood or fire. It's more common than you might think!
Flat-rate vs. hourly pricing*. Many Roto-Rooter locations charge a flat-rate for its services. That means you'll pay the price we quote you upfront, whether it takes us 30 minutes or 8 hours to complete the work.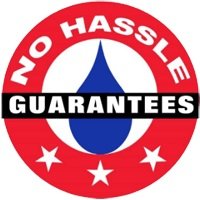 No hassle guarantee* means we'll come back to fix anything that doesn't stay fixed after we worked on it. Your local handyman might tell you he'll stand behind his work, but what happens if he has moved or his phone is disconnected? If you're spending good money on a plumber, you deserve to be covered by an honest guarantee.*
24/7 availability*. Plumbing problems can happen anytime of the day or night. That's why many Roto-Rooter services are available 24/7/365. And most locations don't charge extra for nights, weekends or holidays.*
Download a Coupon*. Roto-Rooter locations across the country offer valuable coupons to help you save money on your plumbing or drain service. Visit the coupon page at RotoRooter.com and enter your zip code to see and download the latest coupons from your local Roto-Rooter service provider. Then present your coupon to your service technician to enjoy great cost savings.
*Some independent contractor or franchise locations may charge trip or estimate fees or after hours fees. Services, hours of operations, pricing structure, and guarantees may vary by location. Contact your local Roto-Rooter at 800-768-6911 for details.