FIX IT TODAY,
AND TAKE TIME TO PAY
Special Financing Options Available
LEARN MORE
Customer Reviews
Your techs did an excellent job of replacing the tub drain pipe and preventing further leaking from the pipes. They were both very courteous, prompt, and professional. I would definitely recommend your service to others. Thanks again!
Matilda B
Your tech was great. Arrived on time and was very efficient. Removed two blockages from our drain pipe. Good service from scheduling thru completion. Thanks.
Dante C
Your techs did a great job of diagnosing our problem, showing us what the situation was, and explaining what needed to be done. They worked tirelessly to remove our old sewage pipe and replace it, having to jackhammer through concrete and asphalt to access the pipe. Once they were done, the clean-up crew did a great job, too. We're so thankful that Roto-Rooter was able to come out on a weekend; otherwise, we would probably have had to stay in a hotel for a night or two until repairs could be made. Thank you for your quick and professional response!
Priscilla V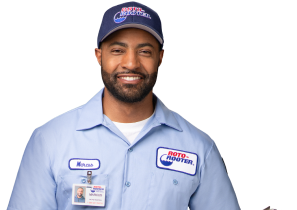 LEAVE PLUMBING TO THE PROS
BECAUSE WITH ROTO-ROOTER, YOU GET MORE THAN A GUARANTEE.
Highly-trained professionals since 1935. A job done right by the original experts.

Free onsite estimates. No hidden or extra charges for plumbing or drain service on holidays, nights, and weekends.

Get it fixed today and take time to pay. Special financing options available.

Same-day and emergency service 365 days a year.

Full-service plumbing, drain cleaning, and water cleanup – using state-of-the-art diagnostics and equipment.