FIX IT TODAY,
AND TAKE TIME TO PAY
Special Financing Options Available
LEARN MORE
Customer Reviews
My parents were away on vacation and I was house sitting when the washing machine backed up into the bath tub. I called and your tech came out. He was amazing he talked through everything with me and did the job quicker than I expected. He was very kind and I am so thankful to Roto-Rooter.
Shane H
Your technician did a wonderful job in fixing the pipe issue from my washing machine.
Cyrus C
I was very pleased with my services. I was impressed with the fact that the tech who worked on my plumbing came back the next day to check out a problem with my washing machine. I could not get any hot water into it. The tech checked everything out and diagnosed the problem with my appliance. He was very polite and pleasant to work with.
Reina R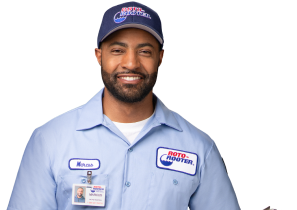 LEAVE PLUMBING TO THE PROS
BECAUSE WITH ROTO-ROOTER, YOU GET MORE THAN A GUARANTEE.
Highly-trained professionals since 1935. A job done right by the original experts.

Free onsite estimates. No hidden or extra charges for plumbing or drain service on holidays, nights, and weekends.

Same-day and emergency service 365 days a year.

Full-service plumbing, drain cleaning, and water cleanup – using state-of-the-art diagnostics and equipment.

Get it fixed today and take time to pay. Special financing options available.