How to Unclog a Kitchen Sink
A clogged kitchen sink drain is not anyone's idea of fun. Whether it's a slow drain situation or a fully clogged backup, at some point, you or someone you know will find themselves in the unfortunate situation of contending with a clogged kitchen sink drain that's too tough for drain cleaner. Things can get even more complicated if the source of the kitchen clog is an important item that was accidentally lodged in the drain that you hope to get back.
Before calling your local Roto-Rooter plumber, here is a detailed list of preliminary steps to deal with a clogged sink:
DIY DRAIN CLEANER: HOW TO CLEAR A SLOW DRAINING KITCHEN SINK CLOG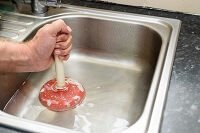 Chemical drain cleaners can be expensive and aren't always good for you or the environment. You can use vinegar and baking soda for an environmentally-friendly solution. Follow these steps:
Remove kitchen sink stopper or drain cover

Pour ½ cup of baking soda in drain
Pour 1 cup of white vinegar in drain
Wait 10 minutes and then chase it with boiling water.
Consider flushing the cleared drain with PipeShield or another pipe cleaner to protect the line from future clogs.

Often, the ensuing chemical reaction from your at-home solution is enough to dissolve the slow drain and repair your clogged drain.



DIRECTIONS FOR PLUNGING A CLOGGED KITCHEN SINK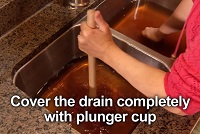 This method is best for standing water clogs. Always remember to use a kitchen plunger rather than a bathroom plunger to avoid the spread of germs. Follow the steps below:
If you have a double sink, plug up the sink drain on the opposite side of the sink with a wet rag to aid in delivering pressure directly to the clog.
Fill the clogged side of the sink with a small amount of water for the plunger.
Begin plunging away (remember it's all about the up motion, not pushing down). Hopefully any food or paper products locked in the pipes will budge when you do this.
If plunging won't fix the problem, you have a few additional options available to you for resolving a clogged kitchen sink:
FIX THE CLOGGED DRAIN WITH A WIRE COAT HANGER
Turn a wire coat hanger into an impromptu pipe cleaner:
Bend a small hook onto the end using pliers
Insert the coat hanger and wiggle it up and down to try to dislodge any food that may be caught in the pipe.
This may succeed where the plunger failed. (Caution: Do not stick equipment or appendages into a garbage disposal without first cutting the fuse.)
USE A DRAIN SNAKE TO CLEAR OUT THE CLOG
There is a chance that the clog is farther down the drain, whereby none of the above methods will work. If this is the case, then follow these steps:
Run a drain snake down the kitchen drain. These can be purchased at your local hardware store like the aforementioned examples.
If that still doesn't work, you may have to take the trap beneath the sink apart, and snake the drain more directly. This requires a bit of hands-on effort, so you may want to wear rubber gloves. Be sure to place a bucket beneath the trap to catch any dirty water. Finally, you can begin snaking the drain.
USE A WET VACUUM OR "SHOP VAC"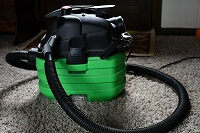 Wet and dry vacuums are powerful appliances with a lot of suction.
Set a wet vacuum to "liquids" and cover the vent.
Remember to create a very tight seal around the drain and cover the overflow tube with a finger or rag.
The power of a wet vacuum can often be enough to draw the clogged material up and unclog the drain. Check the bag for hair and grease in order to identify the source of the clog. A wet vacuum can also work well when trying to recover jewelry from a drain, as seen here.
LAST STEP: CALL IN A PROFESSIONAL PLUMBER
When you've exhausted all remediation efforts to fix your clogged drain, you know it's time to call a licensed plumber. Don't hesitate to contact your local Roto-Rooter. They certainly won't hesitate to head over and unclog your drain.
HELP WITH A KITCHEN SINK BACKUP
A customer recently submitted the following sewer cleaning question:
My kitchen sink is backed up and there is standing water on both sides. When I run the dishwasher, water immediately begins to fill up the sink. Please help me with this problem!
These lines notoriously fill with grease, sludge and soap scum until they reduce the internal diameter of the drain and slow the water flow.
If your kitchen sink is still clogged after removing the trap, then you will have to have your branch line cleaned. When snaking the line inside the wall, make sure you are using the proper equipment. When cleaning drains, use cutting blades that are set to the inside diameter of the pipe. So to clear a 2-inch drain, you would need a pair of 2-inch blades.
Plumbing contractors are equipped to handle these types of sewer cleaning jobs. You can buy snaking kits at your local home improvement store, but you may be better off leaving this one of your local plumbing companies.