Curious Kitties: 2021 Winter Rescues
Raleigh Branch
Stephen Balogac and Marcus Munden were dispatched to rescue this bearded dragon from an air duct! They were able to use their drain camera to locate the big lizard and coax him out.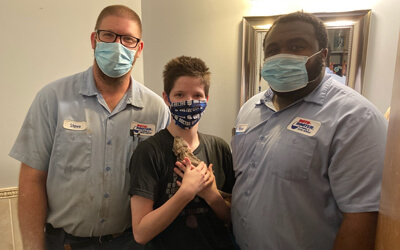 Portland Branch
Chris Passmore and Conner Saladin went above and beyond to save a curious cat trapped behind a cinder block and brick wall of a home.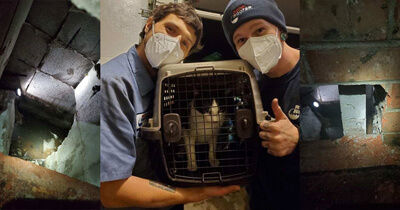 Tampa Branch
Scott Bowers, drain technician, made his third rescue in one year! He's now referred to as the "cat whisperer". Using sounds on his phone to duplicate a mother cat, he was able to save a kitten stuck in a storm drain. The kitten is now safe and has been turned over to a shelter.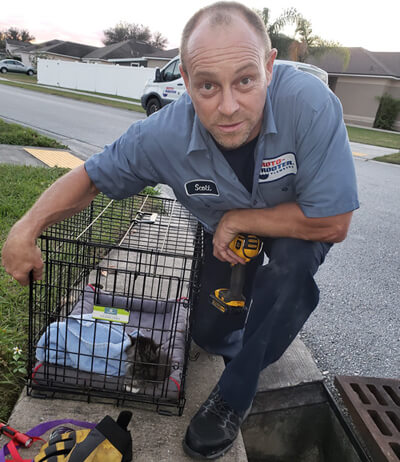 Dallas Branch
The office staff at our Dallas Branch witnessed a Cooper's Hawk fly into their building after it mistook a strong reflection on a large window for a tree. Cooper (as they named him) was unable to fly due to the shock his body felt from impact. After calling several organizations in the city, they found that no one was able to help. They were finally able to get in touch with Roger's Wildlife Rehabilitation. Even though he couldn't fly, he was able to run and hop, so catching him was a bit of a challenge! The good news is that after several days and some medication to reduce the swelling on his brain they believe he will make a complete recovery. To make a donation to Roger's Wildlife Rehabilitation or to learn more about their important work visit https://www.rogerswildlife.org