Curious Kitties: 2020 Summer Rescues
Houston
Our employees are amazing! Colt Butcher, drain technician at our Houston Branch, responded to a customer complaint that their kitten had become stuck in a street storm drain. With about a foot and half of water and debris and obvious distress calls from the poor kitten, Colt jumped directly into the dark sewer tunnel and was able to pull her out. After taking a photo with the thankful owner and kitten, Colt went straight home for a long shower and change of clothes.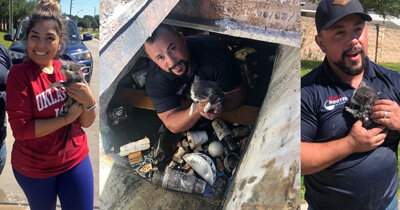 St. Louis
Roto-Rooter to the (pet) rescue! ❤️ Technicians at our St. Louis Branch were called to save Chloe the dog after her foot got stuck in some stairs at a local playground. Her excited young owners were trying to get her to go down the slide. Thanks to Eric Ehleh, Josh Arand, Matt Spann and Tim Brown for saving the day! Word to the wise - be wary of taking your furry friends on outdoor playgrounds as these structures are not designed to accommodate their paws.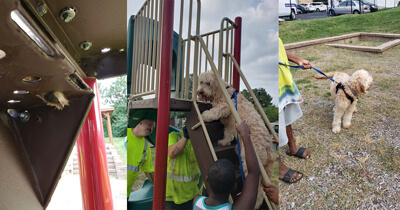 San Diego
Hats off to our San Diego franchise location who saved a pet guinea pig named Maui the other day after he somehow got out of the house, crawled into a storm drain and got lost along the way. The heroes got the little guy out of the drain safe and sound at no charge to the family!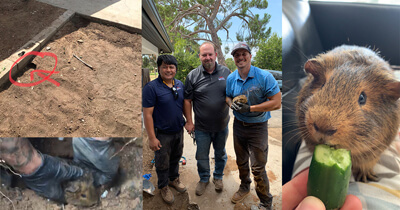 Middlesex, NJ
Nir Balinco and Bobby Brennan of our Middlesex, NJ Branch dropped everything to join fellow technician Yiu Lee on an emergency animal rescue on their day off. Roto-Rooter received the call about a stray kitten, which was stuck in a storm drain. The three technicians strategically used their equipment to direct the kitten to its rescue after a few hours and several attempts. Balinco has decided to bring the kitten home after getting the newest member of his family appropriate veterinary care.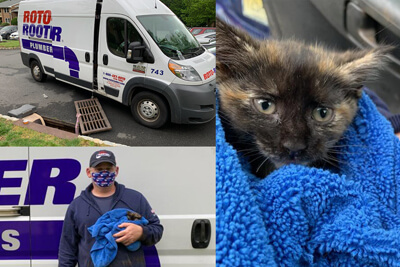 Related Articles