Experts You've Trusted For Over 80 Years
Open 24/7, Call Now
Open 24 Hours, 7 Days a Week

Trusted & Recommended since 1935
Our Services
Emergency Service
Water Heaters
Plumbing and Drains
Water Damage
Roto-Rooter plumbers in Toronto, Ontario provide full service plumbing maintenance and repairs and clogged drain cleaning, 24 hours a day, including toilet repairs. Roto-Rooters Toronto plumbers offer residential and commercial plumbing services that customers depend on for all of their local plumbing needs.
Trusted and recommended since 1935, Roto-Rooter is the premier provider of plumbing and drain cleaning services to the Toronto area including Oakville. Homeowners and businesses depend on Roto-Rooter 24 hours a day, 7 days a week and can be reached at (416) 503-4444. Our specialty is emergency plumbing services. We stand by our estimates and guarantee our work. Your call will be answered by a trained customer service representative who will handle your request quickly and schedule service at your convenience or send out an emergency plumber if needed.
Call Our Emergency Plumbing Services in Toronto
When you need a local plumber, Toronto's Roto-Rooter Plumbing and Drain Service can help. Whether you are in need of preventative or reparative plumbing work, our trained staff is ready to service your home or business. Performing preventative maintenance is the best way to avoid major plumbing disasters. However, even the best prepared are still susceptible to emergencies. Our 24-hour emergency services make it easy and affordable for you to get the professional help you need when something goes wrong with your plumbing system. You can count on Roto-Rooter's emergency plumbers in Toronto, Ontario.

Most Trusted Sump Pump Repair Services
If you are in need of a sump pump repair service in Toronto, our plumbing experts can locate the source of a problem and make sure the next time it rains, you will be ready. Floods that result from inadequate drainage are the most common type of problem that we respond to. Regularly test your sump pump to ensure that it is working properly. Our customers know that once we have completed a job, the work is guaranteed, which is why Roto-Rooter is the number one plumber in the country.
Our Work is Always Guaranteed
While we make it a priority to service customers that call for an emergency repair, our plumbers in Toronto are also available for appointments for less urgent plumbing work. By ordering a professional water heater installation, homeowners can enjoy all of the hot water they need without worrying about local plumbing codes or connecting the incoming and outgoing service lines to their new unit. Upgrades in the kitchen or bathroom require a plumber homeowners can trust, which is why we guarantee our estimates and our work. Do not hesitate to give us a call at (416) 503-4444 when you are in need of plumbing assistance.
Operated as an Independent Franchise - All available services, hours of operations, pricing structure, and guarantees may vary by location
Why Choose Roto-Rooter
We will take care of all your plumbing & drain cleaning needs.
Available 24/7

Trusted & Recommended since 1935
Plumbing Services Offered
Homeowners everywhere have relied on Roto-Rooter since 1935 for honest and professional advice on all types of plumbing and drain cleaning services. Large jobs or small, we do it all:
Homeowners everywhere have relied on Roto-Rooter since 1935 for honest and professional advice on all types of plumbing and drain cleaning services. Large jobs or small, we do it all:
Roto-Rooter Water Damage Restoration Services
When water doesn't stay where it's supposed to, our Toronto water damage restoration experts are at-the-ready to handle flooded basements, broken pipes, overflowing tubs and toilets, heavy rains, sewer line backups and other water issues. Roto-Rooter's IICRC certified water cleanup professionals are available 24 hours a day, 365 days a year and will respond quickly to minimize damage to your property.
Learn More from Us
Check out our blog for all your plumbing or drain questions.
YOU HAVE QUESTIONS, WE HAVE ANSWERS.
Read our most frequently asked questions for all your plumbing needs.
Read Our Faqs
We had another company come in the same day prior to Roto-rooter. First we waited all day then they were 1 hr. late, and didn't have the equipment to do ... the proper job. They said they would have to come back the next day to finish. We moved all our clients to the next day, but were worried that this company couldn't fix our backed-up system. I called Roto-rooter and they came at 7pm. Ravi was very professional and came with more than enough equipment to get the job done right. Not only fixed our back-up but identified another back-up and fixed that too. We will call Roto-Rooter next time this happens and refer our friends & Family as well. Thanks, John Bacon My Hair Toronto
John B.
Tonight was my second experience with roto-rooter...and I have to say that both experiences were good . RJ (#3354) was my service man ... he was pleasant, professional.. and efficient. ... The job was successfully done in a very short time! I would not hesitate to recommend rotor-rooter !!! Thank you so much RJ....You tore those tree roots up !!!! wink emoticon #18365780
Test t.
Tonight was my second experience with
Test t.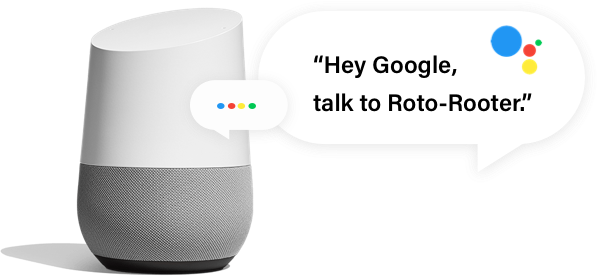 SCHEDULE SERVICE or ASK DIY QUESTIONS WITH VOICE
START WITH YOUR GOOGLE HOME or ALEXA
It's as easy as 1, 2, 3!
Complete the form below so we can schedule your service appointment.
You will receive an email confirming your appointment details.
We will contact you prior to the technician's arrival
Customer Testimonials
Everything went smoothly from the initial appointment to finishing the job. Roto-Rooter was friendly and informative in setting up the appointment. They called when they were 30 minutes away and the plumber did a great job fixing our problem. Great friendly service all around.
- Greg R.