FIX IT TODAY,
AND TAKE TIME TO PAY
Special Financing Options Available
LEARN MORE
Customer Reviews
Your tech did a great job replacing two faucets in my master bath and putting in a new trim kit in the shower in another bathroom. They look wonderful! He also answered all of my questions about other plumbing issues in the house. I've had him out here in the past to fix other things and definitely plan to call back in the future.
Robin C
We had a sewer blockage problem leading to the back up of water into lower shower. You were able to give us same day service with a knowledgeable, professional serviceman who fixed the problem.
Nigel V
We had a leak in the bathroom shower diverter. We saw the water spurting out of the handle in the wall & turned it off immediately. But, I guess prior to this, there was some water that had been leaking behind the wall on to our bedroom carpet & through the ceiling into the garage. Our plumber was excellent. Hard working & very pleasant. When the finish on the new spigot & handles, didn't go well with the existing bathroom sink fixtures, he quickly said, ""This won't work, I'm going to exchange these"". I really appreciated his willingness to make sure everything was done neatly & properly. The water restoration team was there promptly. They took care of the necessary paperwork & filing the home owner's claim with my insurance co. The techs arrived to set up the drying machines, air scrubber & dehumidifier. They took the wet section of the garage ceiling down, after moving the boxes stored in that area & covered the area with plastic sheeting to contain the dust. Everyone was very professional & considerate. I would not hesitate to recommend Roto-Rooter to family & friends.
Regan H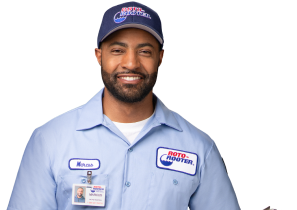 LEAVE PLUMBING TO THE PROS
BECAUSE WITH ROTO-ROOTER, YOU GET MORE THAN A GUARANTEE.
Highly-trained professionals since 1935. A job done right by the original experts.

Free onsite estimates. No hidden or extra charges for plumbing or drain service on holidays, nights, and weekends.

Same-day and emergency service 365 days a year.

Full-service plumbing, drain cleaning, and water cleanup – using state-of-the-art diagnostics and equipment.

Get it fixed today and take time to pay. Special financing options available.