Open 24/7, Call Now
Open 24 Hours, 7 Days a Week

Trusted & Recommended since 1935

Licensed & Insured
Plumber in Abbotsford, BC
Reliable, Trusted Plumbers in Abbotsford Available 24/7
Plumbing issues happen at all hours of the day and night. At those times, it's important to know that you have an emergency plumber in Abbotsford who's available 24 hours a day, seven days a week – even holidays and weekends.
Whether it's at your business or your home, you need a major repair, minor maintenance, a new installation or a replacement upgrade, your plumber at Abbotsford Roto-Rooter will provide affordable and professional services you can count on.
Emergency Plumbers for Affordable Flooding Solutions
Floods can be expensive disasters to recover from. Not only do you need to fix the problem that caused the flood, but you might have damage to your carpet, walls, and other valuables that need to be cleaned or replaced. At Roto-Rooter Plumbing in Abbotsford, we understand that you need to save money while still getting the plumbing service repairs you need. Which is why we offer fair, competitive pricing on all of our services – and we stand behind our work.
If flooding is an on-going issue for your family, a sump pump can help. There are many plumbing service options available and can fit within most family's budgets. However, they do require occasional maintenance. For a free estimate, call the plumbers at Abbotsford Roto-Rooter at 604-850-5854 or use our secure online form to schedule an appointment.
Unmatched Service Standards in Abbotsford, BC
Trusted and recommended since 1935, Roto-Rooter is North America's premier provider of plumbing and drain cleaning services. Which means that when you need a plumber, Abbotsford Roto-Rooter is the place to call. Not only are all of our licensed, professional plumbers trained to the highest industry standards, but they receive on-going training on new techniques and tools that can help ensure your systems are in good working order. Plus, because we live in the community we serve, we also understand Abbotsford's regulations, as well as how the landscape and weather can impact your plumbing service.
Why Choose Roto-Rooter
Emergency Service

Available 24/7

Full Service Plumbing, Drain Cleaning & Water Cleanup

Trusted & Recommended since 1935

Licensed & Insured
Roto-Rooter Water Damage Restoration Services
When water doesn't stay where it's supposed to, our Abbotsford water damage restoration experts are at-the-ready to handle flooded basements, broken pipes, overflowing tubs and toilets, heavy rains, sewer line backups and other water issues. Roto-Rooter's IICRC certified water cleanup professionals are available 24 hours a day, 365 days a year and will respond quickly to minimize damage to your property.
What excellent service!! Garrett was awesome and really took care of the situation vey quickly and kept the place nice and clean in the process. He was quick, retrieved ... a pair of diamond earrings that were accidentally flushed. Nice work. Also the lady on the phone was professional and polite. All around top notch service and professionalism.
Ed G.
I was not happy initially as the appointment was for September 26 2017 between 8:00 am and 9:00am but the booking was not done correctly. Got hold of the ... plumber 8:30 pm and he offered to come that evening or early the following morning. The next morning he arrived on time. He apologized for the issue.....I told him it was not him that was to blame it was the person who did not book the appointment correctly. He said he hoped I was happy with his work and I certainly am. Can not tell you how professional he was and gave me some tips that will certainly come in handy. Hope someone in the company appreciates his work ethic and perhaps mentions it to him.
Wendy C.
Thorough, amiable, conscientious, and effective!
John C.
Memberships & Affilations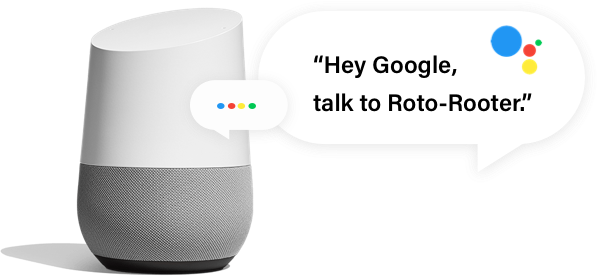 SCHEDULE SERVICE or ASK DIY QUESTIONS WITH VOICE
START WITH YOUR GOOGLE HOME or ALEXA
It's as easy as 1, 2, 3!
Complete the form below so we can schedule your service appointment.
You will receive an email confirming your appointment details.
We will contact you prior to the technician's arrival
Customer Testimonials
Everything went smoothly from the initial appointment to finishing the job. Roto-Rooter was friendly and informative in setting up the appointment. They called when they were 30 minutes away and the plumber did a great job fixing our problem. Great friendly service all around.
- Greg R.