Experts You've Trusted For Over 80 Years
Call Now
Trusted & Recommended since 1935

Licensed & Insured
Our Services
Emergency Service
Water Heaters
Plumbing and Drains
Water Damage
Trusted Hamilton Plumbing Services
For most homes and businesses, properly functioning plumbing and working water heaters are more than just a luxury, they're a necessity. Fortunately, with Roto-Rooter on your side, you'll have a team of licensed, trained professionals who can take care any problems, maintenance or installations right the first time. Whatever your residential or commercial plumbing concerns may be, we can expertly handle them all – regardless of their complexity.
Since 1935, we've been North America's chosen plumbers. Offering emergency services, when it comes to finding a plumber, Hamilton Roto-Rooter will be there. To schedule your appointment, give us a call at 905-545-0940 or use our secure online form.
Sump Pumps for Homes and Businesses
When home and business owners have a problem with their plumbing, they call Roto-Rooter. We have been a dependable and recommended emergency plumbing service company for over 75 years. If you need specialized, expert help with waterproofing and flood prevention, your Roto-Rooter plumber in Hamilton can install or repair your sump pump – or develop a range of plumbing service strategies to help prevent water damage.
New Water Heaters for Every Need
Whether you're washing your hands, washing the dishes or doing laundry – a reliable water heater is a must for homes and businesses of every size. If your water heater needs to be serviced or replaced, Roto-Rooter can help. Our Hamilton emergency plumbers can evaluate your current water heater's condition, assess your home's or business's needs, and repair, remove and install the right water heater for your needs quickly and efficiently.
Why Choose Roto-Rooter
We'll take care of all plumbing and water cleanup needs.
Emergency Service

Full Service Plumbing, Drain Cleaning & Water Cleanup

Trusted & Recommended since 1935

Licensed & Insured
Plumbing Services Offered
Homeowners everywhere have relied on Roto-Rooter since 1935 for honest and professional advice on all types of plumbing and drain cleaning services. Large jobs or small, we do it all:
Homeowners everywhere have relied on Roto-Rooter since 1935 for honest and professional advice on all types of plumbing and drain cleaning services. Large jobs or small, we do it all:
Roto-Rooter Water Damage Restoration Services
When water doesn't stay where it's supposed to, our Hamilton water damage restoration experts are at-the-ready to handle flooded basements, broken pipes, overflowing tubs and toilets, heavy rains, sewer line backups and other water issues. Roto-Rooter's IICRC certified water cleanup professionals are available and will respond quickly to minimize damage to your property.
Learn More from Us
Check out our blog for all your plumbing or drain questions.
YOU HAVE QUESTIONS, WE HAVE ANSWERS.
Read our most frequently asked questions for all your plumbing needs.
Read Our Faqs
Recent Customer Reviews
Rated 4.8 out of 50 reviews
Conway did an excellent job. He was very thorough and professional.
Mark W.
I came home from a week deep in the Canadian wilderness and needed a shower to find water would not drain from tub while showering. (Thought) hairball in drain. ... Went to basement to find water all over floor and basement toilet filled to rim, clean out fitting leaking water everywhere. Called 24/7 competitor in area at 9pm (who I have used annually for 6yrs (new tech everytime)for tree root issue) and 2hrs later, multiple calls, no response. Tried another 24/7 plumber, who I have seen their trucks in area, after multiple calls I know why "Stinky" is their slogan. They actually called back the next day to see if I still needed them. At midnight on a Friday, I called your company. The phone rang back in 15 minutes. Although I knew I had awoken him, he was very courteous and "hurray" a technician was coming and quite quickly. He was very thorough and I was impressed as I have only dealt with one other company. We discussed remedial future action for tree root issue and with his knowledge and conversation, I have decided against what other plumbers promote, fiberglass/epoxy re-lining of existing 50's clay pipe. I will see you roto rooter in the spring for a complete replacement of all sewage lines and lead pipe water supply and backwater valve. Best service. I use to recommend the other, but not anymore. Your number one on my list. Please pass this on to my technician because if not for him, you would not receive such a glowing review. I believe his name was Conwayne Hendricks.
Sherri L.
Dan L #72 was fantastic. I had a huge 3 day job which included digging down the last two feet of bedrock with a jackhammer where a backhoe was too ... big to dig safely. He is very knowledgeable, explained each stage and through it all he had a good sense of humour which I appreciated. I do have to add that the office staff, Cindy and Michelle were also great to deal with.
Mary Alice W.
Memberships & Affilations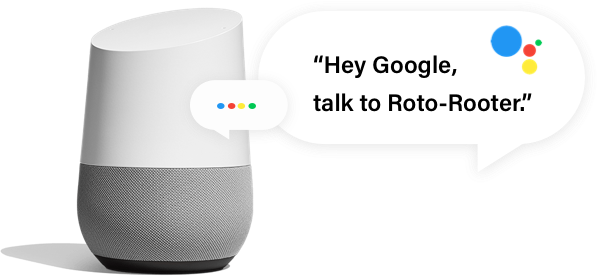 SCHEDULE SERVICE or ASK DIY QUESTIONS WITH VOICE
START WITH YOUR GOOGLE HOME or ALEXA
It's as easy as 1, 2, 3!
Complete the form below so we can schedule your service appointment.
You will receive an email confirming your appointment details.
We will contact you prior to the technician's arrival
Customer Testimonials
Everything went smoothly from the initial appointment to finishing the job. Roto-Rooter was friendly and informative in setting up the appointment. They called when they were 30 minutes away and the plumber did a great job fixing our problem. Great friendly service all around.
- Greg R.