Experts You've Trusted For Over 80 Years
Open 24/7, Call Now
Open 24 Hours, 7 Days a Week

Trusted & Recommended since 1935

Licensed & Insured

Free Estimates
Our Services
Emergency Service
Water Heaters
Plumbing and Drains
Roto-Rooter offers a complete selection of repair and maintenance plumbing services to fit any plumbing need, whenever you need it, 24 hours a day, 7 days a week. As a full-service Kamloops plumbing and drain cleaning company, our licensed and insured plumbers are proud to service residential and commercial customers throughout the entire Kamloops area. Since 1935, we have maintained our position as the preferred plumber in Kamloops due to our unbeatable customer service, reasonable prices, and dedication to providing quality, timely services that our customers can rely on.
Reliable Services
If you are experiencing plumbing problems, then it is best to call a professional technician. Fixing problems on your own can lead to more expensive repairs later. At Roto-Rooter Plumbing and Drain Service, we offer a number of reliable plumbing services through our licensed, experienced plumbing contractors. We will provide a free estimate on all of our services, including sump pump repair and much more. We specialize in fixing sump pumps, diagnosing drainage problems, and waterproofing buildings to prevent future damage. If you are looking for cost-effective solutions, give us a call.
An Accurate Estimate
Our plumber can also fix leaky faucets and provide other less urgent services such as water heater installation. If you are getting ready to do new home improvement projects or simply want the latest and greatest in water heaters, then we have what you need. We can examine your home and help you come up with new ways to save energy, conserve water, and keep your water heater working efficiently.
Emergency Response
Most people prefer to schedule plumbing services in advance, but when you experience a serious plumbing problem, our professional plumbercan give you a quick response and provide the 24 hour emergency services you need. So don't wait until a problem escalates. Get the help you need now. For over 75 years, we have provided the expert services that you need. Our technicians are second to none and can educate you on how to maintain your plumbing system. We are here for you, so call today.
Operated as an Independent Franchise - All available services, hours of operations, pricing structure, and guarantees may vary by location
Why Choose Roto-Rooter
We will take care of all your plumbing & drain cleaning needs.
Emergency Service

Available 24/7

Trusted & Recommended since 1935

Licensed & Insured

Free Estimates

No Hassle Guarantees
Plumbing Services Offered
Homeowners everywhere have relied on Roto-Rooter since 1935 for honest and professional advice on all types of plumbing and drain cleaning services. Large jobs or small, we do it all:
Homeowners everywhere have relied on Roto-Rooter since 1935 for honest and professional advice on all types of plumbing and drain cleaning services. Large jobs or small, we do it all:
Learn More from Us
Check out our blog for all your plumbing or drain questions.
YOU HAVE QUESTIONS, WE HAVE ANSWERS.
Read our most frequently asked questions for all your plumbing needs.
Read Our Faqs
Thank you so very much for offering your services free of charge to the residents of the recent flood. I have told everyone I know about your generosity. I will ... be sure to call on you for any future needs! Thank you! Thank you to your hard working employees!!
Nicole P.
Kevin was very efficient and courteous job was done quickly and neatly if we need again we will call ROTO ROOTER
Mary O.
Very impressed with your company, i called with an emergency in a rental (after calling several plumbers in the phone book) and even though you were books full for the ... day you went out of your way to push stuff around to fit us in. not only did you go out of your way to sqeeze the job in you were there in less then 2 hours. your technician called before even leaving to come address the issue to make sure he had everything he would need to service the issue. while at the job the tech was polite and helpful with the tenants, called me to update me on the situation and was very easy to deal with. the issue was bigger then expected and was promised he would come back with more equipment to solve the issue by 2 pm next day. technician called this morning and said he was coming sooner to deal with the issue and was at the job before noon. meanwhile keeping me in the loop along with the tenants on dealing with the issue. Very pleased with your company and services and thank you for your fast response and service you provided. very impressed! will be using you for any or all our rental needs! just gained a very satisfied customer!
Royal Lepage Merritt Real Estate Services L.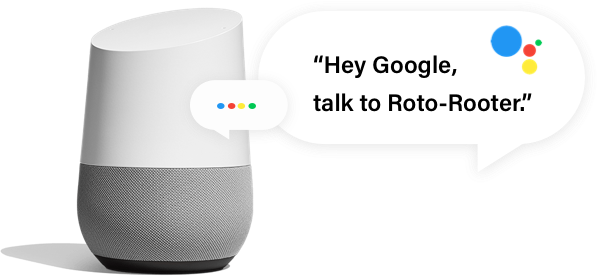 SCHEDULE SERVICE or ASK DIY QUESTIONS WITH VOICE
START WITH YOUR GOOGLE HOME or ALEXA
It's as easy as 1, 2, 3!
Complete the form below so we can schedule your service appointment.
You will receive an email confirming your appointment details.
We will contact you prior to the technician's arrival
Customer Testimonials
Everything went smoothly from the initial appointment to finishing the job. Roto-Rooter was friendly and informative in setting up the appointment. They called when they were 30 minutes away and the plumber did a great job fixing our problem. Great friendly service all around.
- Greg R.