Plumbers You've Trusted For Over 85 Years
Open 24/7, Call Now
Open 24 Hours, 7 Days a Week

Trusted & Recommended since 1935

Licensed & Insured

Free Estimates

State-of-the-Art Sewer Equipment
Aspen Hill Plumbers Near You
Aspen Hill Plumbing & Drain Solutions: Licensed Aspen Hill Plumber Providing 24/7 Emergency Plumbing and Drain Services
Our plumbers in Aspen Hill are well experienced and highly trained to assist you with your plumbing or drain cleaning problems. Our licensed operators specialize in fixing plumbing leaks, sewer problems, and many other issues. Roto-Rooter is also equipped to assist both at home or with commercial plumbing solutions for businesses.
We also provide emergency plumbing support with our local plumbers that we keep on call 24/7 to assist you if an unexpected emergency occurs.
Call us today no matter the time and schedule a professionally licensed plumber to assist you.
Aspen Hill Plumbers You Can Trust
At Roto-Rooter, our business relies on our plumbers to always provide quality service to customers. We ensure our employees are licensed and equipped with the latest training to resolve plumbing issues efficiently. Because our plumbers are local to the Aspen Hill area, we can quickly respond to your emergency call, 24 hours a day, 7 days a week. Contact us today to schedule a plumbing appointment with a local plumber and discover the difference in quality with Roto-Rooter.
GIVING THANKS COUPON OFFER
$75 Off Any Drain Cleaning Service with the donation of 2 or more canned goods.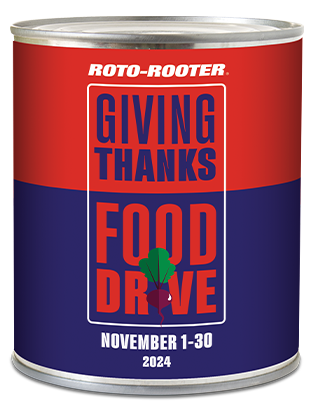 LEAVE PLUMBING TO THE PROS
BECAUSE WITH ROTO-ROOTER, YOU GET MORE THAN A GUARANTEE.
REPUTATION

Highly-trained professionals since 1935. A job done right by the original experts.

TRANSPARENCY

Free onsite estimates. No hidden or extra charges for plumbing or drain service on holidays, nights, and weekends.

FINANCING

Get it fixed today and take time to pay. Special financing options available.

EFFICIENCY

Same-day and emergency service 365 days a year.

QUALITY

Full-service plumbing, drain cleaning, and water cleanup – using state-of-the-art diagnostics and equipment.
Serving Aspen Hill and surrounding communities, Including:
Counties in the Aspen Hill Area
MD:
Anne Arundel

,
Howard

,
Prince Georges

,
Montgomery

,
Baltimore City

,
Baltimore

,
Harford

,
Calvert

,
Saint Marys

,
Charles

,
Carroll
Plumbing Services Offered in Aspen Hill
Homeowners everywhere have relied on Roto-Rooter since 1935 for honest and professional advice on all types of plumbing and drain cleaning services. Large jobs or small, we do it all:
Homeowners everywhere have relied on Roto-Rooter since 1935 for honest and professional advice on all types of plumbing and drain cleaning services. Large jobs or small, we do it all:
Roto-Rooter Water Damage Restoration Services
When water doesn't stay where it's supposed to, our Aspen Hill water damage restoration crews are equipped for flooded basements, bursting pipes, sewer line problems, and other water-related plumbing issues. We staff IICRC certified water cleanup professionals who are available 24 hours a day, 365 days a year and can respond quickly to your call for water damage services.
YOU HAVE PLUMBING QUESTIONS, WE HAVE ANSWERS.
Read our most frequently asked questions for all your plumbing needs.
Read Our Faqs
Frequently Asked Questions
What is Roto-Rooter of Baltimore's rating on Google?
Roto-Rooter in the Baltimore metro area and surrounding communities is rated 4.8 out of 5 stars on Google and is Google Guaranteed.
Can I book an appointment with Roto-Rooter's Aspen Hill plumbers online?
Yes – visit our Schedule Online page to book emergency plumbing or drain cleaning service, or to find a time that best fits your schedule. You'll receive a service confirmation email and a Roto-Rooter representative will contact you 30 minutes prior to the technician's arrival.
What plumbing services does Roto-Rooter in Aspen Hill provide?
Roto-Rooter in Aspen Hill provides plumbing, drain cleaning and water cleanup services 24 hours a day, 365 days a year. From drain cleaning services to water and sewage removal services to emergency plumbing services, we have you covered. Trusted since 1935, Roto-Rooter experts can help with any plumbing or water-related service you may come across such as water heater repair and installation, clogged drains, sewer line cleaning and inspections, sump pump service, bathroom/kitchen plumbing repair and installation, repairing burst pipes and so much more.
Does Roto-Rooter in Aspen Hill have any coupons or offer free estimates?
Yes, Roto-Rooter in Aspen Hill offers a variety of coupons and free estimates for both plumbing and drain service. Visit the coupons section of our website.
What are Roto-Rooter's hours of operation in Aspen Hill, and are they open on Saturdays and Sundays?
Roto-Rooter in Aspen Hill provides 24/7 service with free onsite estimates and no extra charge on Saturdays and Sundays. Call 301-386-0783 or schedule service online via our website.
What is the response time for a plumbing emergency in Aspen Hill?
Roto-Rooter's response time for a Aspen Hill plumbing emergency is dependent on whether the emergency is confined to one household/building or to the entire community. Roto-Rooter is available 24/7 to handle plumbing emergencies, and in most cases, a Roto-Rooter service technician will arrive at your home or business within two hours of your call. But if the entire community is dealing with flooding or water problems as the result of a storm or natural disaster, then Roto-Rooter's response time will be longer because Roto-Rooter service technicians will be handling emergency plumbing calls in the order in which they were received.
Recent Customer Reviews
Rated 5.0 out of 4 reviews
I was extremely pleased with the professional, courteous service that I received from your representative.
Wanda P.
I would like to thank Roto-Rooter for the excellent repair work performed at Knox Presbyterian Church. The speed that you completed the job was amazing and allowed us ... to get back into church services by the next Sunday. The professional way you prepared and completed the job was extraordinary and was done with impeccable care for the sanctuary. I will be telling all my friends about your work. We are very satisfied with the staff performance. Thanks Brian
Brian K.
Very friendly technician and he was skillful
Sarah M.
Memberships & Affiliations



Plumbing Licenses:
MD State #19631, Washington DC #PC1000420, WSSC #PFG-82685
Anne Arundel A2 #00384, Baltimore County #MP-9799, Carroll County #P-01676M, Charles County #19631, DC County #PGM1002148, Harford County #000247, Howard County #19631, Montgomery County WSSC PFG-82685, Prince Georges County WSSC PFG-82685, St. Mary's County #19631
SPECIAL FINANCING AVAILABLE
We have partnered with Synchrony Bank to offer financing options to make your plumbing repair expenses as convenient and stress-free as possible.
Hiring Plumbers in Aspen Hill
Click below to see open positions at your local Roto-Rooter.