Experts You've Trusted For Over 80 Years
Open 24/7, Call Now
Open 24 Hours, 7 Days a Week

Trusted & Recommended since 1935

Licensed & Insured
Our Services
Emergency Service
Water Heaters
Plumbing and Drains
When it comes time for taking care of your home or business, we are the Henderson plumbers who pride themselves on exceptional customer service. At Roto-Rooter, we're all about service. Not only will we work around your schedule to get you the help you need, when you need it, we can take care of any problems – from a big emergency to something less urgent like a leaky faucet, running toilet or routine sewer and drain cleaning. Our plumbers in Henderson, NV provide full-service plumbing maintenance, repairs and clogged drain cleaning 24 hours a day, 7 days a week—which is why customers in Nevada depend on for all of their plumbing needs.
We Help Stop Problems Before They Start
We may live in the desert, but we're no strangers to flooding. From leaky pipes to those nasty monsoon storms, water can wreak havoc on your home or business even here in Nevada. From sewer lines to your entire plumbing system, Roto-Rooter Waterproofing services will find the root cause of leaks and eliminate them for good. It's also important to keep your plumbing system working properly by performing routine maintenance. You can do checks yourself on a lot of your appliances and systems without having to call a plumber in Henderson, which is why we offer free tips and instructions for maintaining your own system. However, we also offer discounted pricing for more complicated jobs. Schedule an appointment for an on-site inspection today.
Going 'Green' in the Desert is Easy
You don't have to be a tree hugger to make your house or office more energy efficient and environmentally friendly. There are several things you can do on your own to conserve water and energy, such as running your dishwasher or laundry outside of the high usage times of day. But we also have tips you may not have thought of. See all of our helpful, energy-saving tips to get started. In addition, check out Roto-Rooter's ROTOGreen program, which makes it easy for you to go green, conserve water and save money on utility bills. It's a simple but effective approach to conservation.
Why Choose Roto-Rooter
We'll take care of all plumbing and water cleanup needs.
Emergency Service

Available 24/7

Trusted & Recommended since 1935

Licensed & Insured
Plumbing Services Offered
Homeowners everywhere have relied on Roto-Rooter since 1935 for honest and professional advice on all types of plumbing and drain cleaning services. Large jobs or small, we do it all:
Homeowners everywhere have relied on Roto-Rooter since 1935 for honest and professional advice on all types of plumbing and drain cleaning services. Large jobs or small, we do it all:
Learn More from Us
Check out our blog for all your plumbing or drain questions.
YOU HAVE QUESTIONS, WE HAVE ANSWERS.
Read our most frequently asked questions for all your plumbing needs.
Read Our Faqs
Recent Customer Reviews
Rated 4.7 out of 167 reviews
The turn-off valve, in the wall at floor level could not be turned off. The tube to deliver the water to the toilet was dismantled. We were in process of ... putting in a new flush system, and the water had been turned off, but the inlet continued to overflow and there seemed no way to turn the water off. The water was turned off at the main, all water faucets turned on in the house, It still seeped in. We saw where we needed to remove the toilet to access the work area, but I would not allow my dear husband to do that as he has had severe problems with his back in the past. I suggested we call Roto Rooter plumbers as we had good experiences with them in the past. I called the company this morning and explained the problem. They sent a plumber right out and we got the best service you could ask for again. Thanks Roto Rooter.
Polly W.
Dear Roto-Rooter: Your expert Charles arrived early on a Sunday and explained everything to me in a professional manner. He could not have been nicer and he worked diligently until the end. It ... was not a simple toilet snake and he had to break out the "big guns". He is an honest gentleman who is invited to my home anytime. He is trustworthy. What a GREAT man! I want to commend him on his expertise by telling you how lucky I was to have this excellent trained technician solve my dilemma. The lady that answered my distress call was also very understanding, professional and calm. I could not have done this by myself. Charles deserves a big raise and some days off with pay. I hope you can arrange this for him. You are well served by someone as talented and honorable as Mr. Charles. Thank you again for helping me get out of the brown water Navy. Sincerely, Bruce Schad 733 Character Point Ave Henderson, NV 89012 702-856-0303
Bruce S.
Ryann came out and fixed my shower diverter. He was very personable, attentive, and an overall professional while fixing the plumbing issue! Thanks for the excellent service! Nikki
Nikki T.
Memberships & Affilations
Proud Member of:
North Las Vegas ChamberNorth Las Vegas Optimist ClubSin City Chamber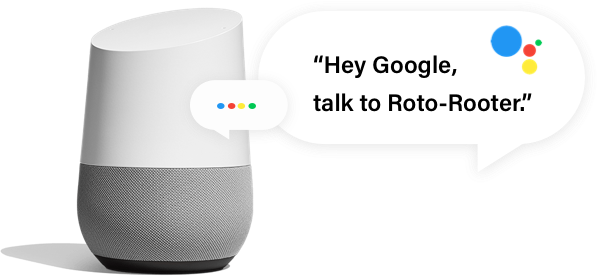 SCHEDULE SERVICE or ASK DIY QUESTIONS WITH VOICE
START WITH YOUR GOOGLE HOME or ALEXA
It's as easy as 1, 2, 3!
Complete the form below so we can schedule your service appointment.
You will receive an email confirming your appointment details.
We will contact you prior to the technician's arrival
Customer Testimonials
Everything went smoothly from the initial appointment to finishing the job. Roto-Rooter was friendly and informative in setting up the appointment. They called when they were 30 minutes away and the plumber did a great job fixing our problem. Great friendly service all around.
- Greg R.