Open 24/7, Call Now
Open 24 Hours, 7 Days a Week

Trusted & Recommended since 1935

Licensed & Insured
What you think might be a small problems, such as a leaky faucet, might actually be part of a larger plumbing problem. Our plumbers with Santa Fe, NM Roto-Rooter can fix all plumbing issues — big or small. Have no fear, our plumbers are near.
At Your Service
Need a plumber immediately? Looking for someone to install your fixtures in your home or business? Rotor-Rooter plumbing professionals in Santa Fe are trained to perform all plumbing services — big or small, commercial or residential. While we are known for our emergency services, our plumbers provide a variety of services, including sewer and drain cleaning, installation of appliances and fixtures and basic and complex repair and maintenance. We do it all.
Have you ever had a pipe freeze during the winter? Count yourself as one of the lucky ones if you answered no! The constant contraction and expansion of water in the pipes during summer and winter can cause havoc on the plumbing system in your home or business. We can test your whole plumbing system to make sure everything is in great working order.
Get Ready for Winter With a New Water Heater
Do you know if your water heater is working to its full potential? Our trained professionals will test your current water heater and let you know if you just need a repair or if you need a new unit. Do you know how old your water heater is? The average lifespan of a water heater is 10 years. If you're not the homeowner who installed the heater, it might be a lot older than that. You could be wasting a lot of energy using an inefficient heater. We are the water heater repair and installation experts.
Why Choose Roto-Rooter
Emergency Service

Available 24/7

Trusted & Recommended since 1935

Licensed & Insured
Fast response to my problem. Fixed.
Craig D.
I am so pleased with my plumbing work Anthony Meastas did at my home today. I had a leak under my drive way so I had quite some work done ... & I can not explain how impressed & pleased we are with the work & repairs that were done, expecially since it was done in a reasonable timely manner. Anthony was so helpful, understanding, knowledgeable/informative, he did very clean work & he is very professional . We are so amazed & impressed on the amazing & hard work ethics all employees provide (from the ladies in the office, to the amazing plumbers & also the incredible management). This is the ONLY plumbing company I will trust & count on for any further needs we may have. I will recommend anyone & everyone to use RotoRooters service!!! Thank you for such an amazing experince & for helping my family out!!
Vincent & Breana B.
Our work hasn't been completed. But I just wanted to say you guys are great and very big life savers!! I just wanted to say how much we appreciate the ... accommodations you provide for customers who struggle to pay their bills in full. We have a leak in our home, I have a disabled elder in the home who is on a fixed income and this was the only company who had some heart to work with my family on the billing arrangements and to help get us our water running as soon as possible. I was able to call this morning and schedule an appointment for a tech to come out to our home!! Everywhere else wanted us to wait several days until a tech could come to our home. All employees have gone over an beyond to provide me and my family with help. Ive worked in a office for 2 plumbing companies so I know how things can go but Roto-Rooter is by far the best company and I would recommend everyone to use this company!! All employees that I've talked to over the phone are so professional, helpful, knowledgeable and go out of their way to help resolve any issues. The technicians are very knowledgeable, courteous, helpful and very professional. Management is definitely my favorite, this is the first company that I've experienced a manager calling me back as soon as they could (I didn't wait no longer than half an hour). Management is professional and still super understanding to a customer's needs/requests. You guys have customers for life!! We will not use any other plumbing company other then RotoRooters! We look forward to seeing the technicians tomorrow and having our leak fixed!!
Vincent B.
Memberships & Affilations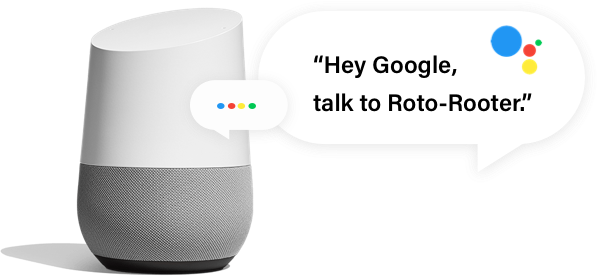 SCHEDULE SERVICE or ASK DIY QUESTIONS WITH VOICE
START WITH YOUR GOOGLE HOME or ALEXA
It's as easy as 1, 2, 3!
Complete the form below so we can schedule your service appointment.
You will receive an email confirming your appointment details.
We will contact you prior to the technician's arrival
Customer Testimonials
Everything went smoothly from the initial appointment to finishing the job. Roto-Rooter was friendly and informative in setting up the appointment. They called when they were 30 minutes away and the plumber did a great job fixing our problem. Great friendly service all around.
- Greg R.