Open 24/7, Call Now
Open 24 Hours, 7 Days a Week

Trusted & Recommended since 1935

Licensed & Insured
Plumber in North Fort Myers, FL
Need a plumber who can be relied on in an emergency? Give Roto-Rooter North Fort Myers a try. Available 24 hours a day, seven days a week—including nights, weekends, and holidays—our local plumbers offer a variety of superb plumbing services. Whether you need your drains unclogged before your holiday company arrives, or have a basement that's in the process of flooding due to a burst pipe, Roto-Rooter is there to step in and help when you need us most.
Trusted and recommended since 1935, Roto-Rooter is the premier provider of plumbing and drain cleaning services in North Fort Myers, FL. Homeowners and businesses depend on Roto-Rooter around-the-clock. Our licensed and insured technicians deliver only the highest quality of plumbing services. Plus, we guarantee our work, which means you're sure to be satisfied with a job well done.
Emergency Plumbing Services in North Fort Myers
We've all been there. You're about to head to bed, exhausted after a long day at work and time spent wrangling the kiddos. You turn on the dishwasher—and a pipe bursts below your sink, beginning to flood your kitchen. Panicked, you shut your water off. But now what? Your entire family will need to shower in the morning and you've got relatives flying in tomorrow to stay for a week. What should you do?
Call Roto-Rooter, of course. At Roto-Rooter North Fort Myers, our specialty is emergency services. We have the expertise and tools to solve your plumbing problems, no matter how tough. Leave the work up to us. All you have to do is call. Your call will be answered by a trained customer service representative who will handle your request quickly and schedule service at your convenience.
Other Plumbing Services
In addition to emergency services, our local plumbers schedule maintenance calls all the time. It's important to stay on top of the routine water system checkups in order to avoid the need for unexpected repairs—in other words, catch the problem before it occurs! On a maintenance visit, your Roto-Rooter plumber will assess your home or business plumbing system and make recommendations for updates and repairs. Just like you should get regular checkups with your doctor, maintenance checkups with your plumber will ensure the continued and future "health" of your plumbing system.
Why Choose Roto-Rooter
Emergency Service

Available 24/7

Full Service Plumbing, Drain Cleaning & Water Cleanup

Trusted & Recommended since 1935

Licensed & Insured
Roto-Rooter Water Damage Restoration Services
When water doesn't stay where it's supposed to, our North Fort Myers water damage restoration experts are at-the-ready to handle flooded basements, broken pipes, overflowing tubs and toilets, heavy rains, sewer line backups and other water issues. Roto-Rooter's IICRC certified water cleanup professionals are available 24 hours a day, 365 days a year and will respond quickly to minimize damage to your property.
Recent Customer Reviews
Rated 5.0 out of 4 reviews
Jesse responded quickly and did a good job removing object in toilet and cleaned up the area...
Carol K.
Denver was at house 12/10 and 12/17. Dylan on 12/19 and 12/21. good job by all. Conduit guy not happy, but that is what happens when you run over pipes and infiltrate ... pipes with conduit. Thanks.
Catherine F.
The Roto-Rooter plummer was profession, competent, focused, and worked hard. Our sewer issue was resolved in a timely manner.
Gena D.
Memberships & Affilations
Proud Member of:
Lee County Chamber of Commerce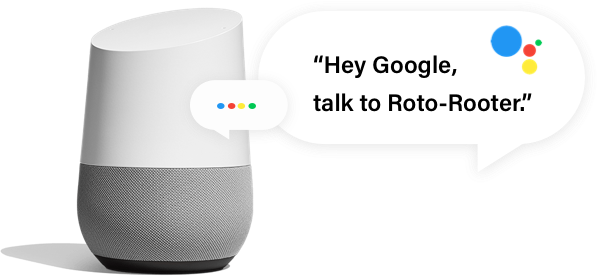 SCHEDULE SERVICE or ASK DIY QUESTIONS WITH VOICE
START WITH YOUR GOOGLE HOME or ALEXA
It's as easy as 1, 2, 3!
Complete the form below so we can schedule your service appointment.
You will receive an email confirming your appointment details.
We will contact you prior to the technician's arrival
Customer Testimonials
Everything went smoothly from the initial appointment to finishing the job. Roto-Rooter was friendly and informative in setting up the appointment. They called when they were 30 minutes away and the plumber did a great job fixing our problem. Great friendly service all around.
- Greg R.