Experts You've Trusted For Over 80 Years
Open 24/7, Call Now
Open 24 Hours, 7 Days a Week

Trusted & Recommended since 1935
Our Services
Emergency Service
Water Heaters
Plumbing and Drains
Are you in need of a trustworthy plumber that can reliably meet your commercial and residential plumbing and drain cleaning needs? We understand that you have a number of plumbers in Vista, CA to choose from. However, we are confident that you will not find a more reliable, committed plumber than the licensed and insured Roto-Rooter plumbers.

We offer a full selection of affordable plumbing installation, repair, and replacement services to ensure that your home or business has reliable plumbing year-round. We are fully equipped to handle any residential, commercial, or emergency need, regardless of the complexity of the issue. From small toilet repairs to commercial sewer line repair and replacement services, you can count on us we guarantee it!
Maintain Your Plumbing with Our Effective Products
Most home and business owners are shocked when a Vista plumbing problem arises. Oftentimes, these issues can cause a great deal of stress, frustration, and financial hardship, but they dont have to. The key to keeping plumbing costs down, while ensuring that your plumbing is performing optimally, is to keep your drains and plumbing well maintained.

In order to keep your drains free from clogging, consider our highly effective, environmentally safe plumbing and drain cleaning products. These are intended to not only clean your drains with each usage, but they can actually help to prevent future problems. This in turn will help to save you time and money on plumbing repairs in the future.

To schedule your Vista plumbing appointment, give us a call at (760) 726-6260 and we will schedule an appointment anytime you need it, 24/7.
Emergency Services for Plumbing Problems
With our 24-hour emergency services, homeowners know that if they are ever awakened to the sound of rushing water that we will be there to clean up the mess. During a plumbing emergency, residents who are in need of immediate help can get through to our dispatcher who will quickly send our professionals to their home. In many instances, our on-call service providers are able to quickly assess the cause of the problem and get to work making the needed repairs. Whatever the need is, Roto-Rooter is ready to be of service to you.
Periodic Sump Pump Inspection and Tests
Maintaining a normal sump cycle is important for sump pump efficiency. It is important to test your sump pump regularly, especially before the start of a wet season. If your sump pump is not working properly or has failed, give us a call immediately. We are the sump pump repair experts and we will help prevent basement flooding.
We Service Home Improvement Projects and Upgrades
While most people only call a plumber when they have a serious problem, our plumbing experts are available to schedule appointments for all kinds of work. If you need someone to help with a water heater installation, Roto-Rooter Plumbing and Drain Service can complete the professional install for you. We can assist with your bathroom and kitchen remodeling projects that require plumbing services. No matter what your needs may be, we have a team of experts that provide professional repair and installation work for any home or business.
Operated as an Independent Franchise - All available services, hours of operations, pricing structure, and guarantees may vary by location
Why Choose Roto-Rooter
We will take care of all your plumbing & drain cleaning needs.
Available 24/7

Trusted & Recommended since 1935
Plumbing Services Offered
Homeowners everywhere have relied on Roto-Rooter since 1935 for honest and professional advice on all types of plumbing and drain cleaning services. Large jobs or small, we do it all:
Homeowners everywhere have relied on Roto-Rooter since 1935 for honest and professional advice on all types of plumbing and drain cleaning services. Large jobs or small, we do it all:
Learn More from Us
Check out our blog for all your plumbing or drain questions.
YOU HAVE QUESTIONS, WE HAVE ANSWERS.
Read our most frequently asked questions for all your plumbing needs.
Read Our Faqs
Recent Customer Reviews
Rated 5.0 out of 1 reviews
Eliseo (Eli) Ozuna and his partner we're Great!! They should up early, called ahead, and we're quick!! They also we're caution's with my home and explained in detail the procedure ... that was done to the drain in the kitchen. Highly recommend. Thank you!
Yesenia Z.
Memberships & Affilations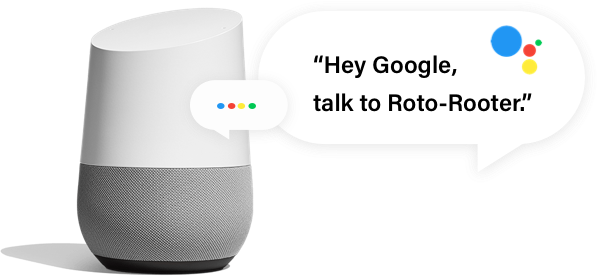 SCHEDULE SERVICE or ASK DIY QUESTIONS WITH VOICE
START WITH YOUR GOOGLE HOME or ALEXA
It's as easy as 1, 2, 3!
Complete the form below so we can schedule your service appointment.
You will receive an email confirming your appointment details.
We will contact you prior to the technician's arrival
Customer Testimonials
Everything went smoothly from the initial appointment to finishing the job. Roto-Rooter was friendly and informative in setting up the appointment. They called when they were 30 minutes away and the plumber did a great job fixing our problem. Great friendly service all around.
- Greg R.