Open 24/7, Call Now
Open 24 Hours, 7 Days a Week

Trusted & Recommended since 1935

Licensed & Insured

Free Estimates
Plumber in Manchester, NH
When you call a Manchester, NH, plumber from Roto-Rooter, you'll receive quality services and backed by our legendary guarantee. And whether you need your water heater installed on a weekday, your drains cleaned on a holiday, a weekend pipe repair or the help of a professional plumber at midnight – with 24/7 residential and commercial services, when you call – our plumbers be there.
Leave Your Plumbing Service Troubles to Professional Plumbers
Small emergency plumbing issues can quickly get out of hand. Our highly skilled, plumbers in Manchester have the experience, knowledge, and materials necessary to quickly and efficiently meet your home's or business's needs.
Of course, if you're a do-it-yourselfer, we'll respect that – but we can also offer some help. The Plumbing Basics section of our website features an interactive home guide, instructional videos, frequently asked questions, and plethora of online resources to help you better understand your plumbing system -- and how you can best maintain it. If, however, your problems are larger than you thought or you'd just like to leave the work to the plumbing service pros, you can call one of our plumbers in Manchester, NH, and we'll be there quickly and will do the work efficiently.
For more information, to request your free estimate, or to schedule an appointment with one of our local plumbing service experts, give us a call at 603-669-9040, or use our secure online form.
Why Choose Roto-Rooter
Emergency Service

Available 24/7

Full Service Plumbing, Drain Cleaning & Water Cleanup

Trusted & Recommended since 1935

Licensed & Insured

Free Estimates
Roto-Rooter Water Damage Restoration Services
When water doesn't stay where it's supposed to, our Manchester water damage restoration experts are at-the-ready to handle flooded basements, broken pipes, overflowing tubs and toilets, heavy rains, sewer line backups and other water issues. Roto-Rooter's IICRC certified water cleanup professionals are available 24 hours a day, 365 days a year and will respond quickly to minimize damage to your property.
Recent Customer Reviews
Rated 4.6 out of 353 reviews
We were having trouble with roots clogging our sewer line. Certainly not a job I'd want to tackle in 80 degree heat. Pete (#340) was the technician that came to ... my home. He was a gentleman all the way. Once I described the problem and our past issue he immediately went outside. He located our septic and began to dig. He had to lie on the ground to reach the cover. I came out at that point and he got up. I then notice a 4" 3 foot swath of small red ants swarming. needless to say, Pete got bit. I immediately scoured my home trying to find something to kill the ants. I had nothing and I went back to Pete and asked him if he wanted to leave and come back later and I would try to find something to kill them. It would have been easier for him to do that but he didn't .he kept trying to find a way to get at our problem. I did go out and buy some insecticide which we used. By then, Pete had fixed our problem by removing a big root that was blocking our line. I thought for sure he would have given up and come back another day but he worked through the heat and bites and was always the gentlemen. He walked us through some products that he carried and went through detail as to how to apply. We told him what we had previously purchased. He didn't say it was not good he just explained the superiority of the commercial grade products he carried. No high pressure sales. Just a knowledgable young man trying to help his customers. We were convinced. We bought two of the products. Rest assured, if we have anymore issues we are calling and asking for Pete.
Cathy O.
Pete, our tech was extremly nice and committed to doing the best job possible. He came out late at night and didn't leave until we felt safe knowing he would ... be back in the morning to finish the job. The mediation crew consisted of Marty and Matt and they were phenomenal in getting the affected damage removed in short order. I can't say enough about how well we were treated by the Rotor Rooter Team and would highly recommend them to everyone.
Nelson T.
Troy and Pete are great! They are knowledgeable and fix the issue 1, 2, 3! I would recommend them anytime someone has a job to be done!
Rori F.
Memberships & Affilations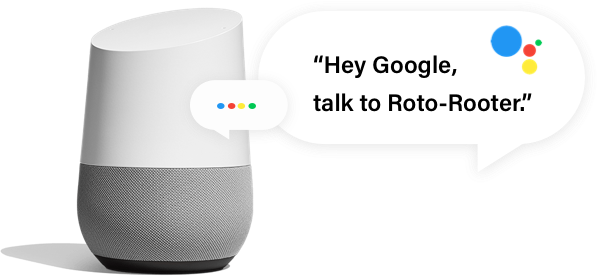 SCHEDULE SERVICE or ASK DIY QUESTIONS WITH VOICE
START WITH YOUR GOOGLE HOME or ALEXA
It's as easy as 1, 2, 3!
Complete the form below so we can schedule your service appointment.
You will receive an email confirming your appointment details.
We will contact you prior to the technician's arrival
Customer Testimonials
Everything went smoothly from the initial appointment to finishing the job. Roto-Rooter was friendly and informative in setting up the appointment. They called when they were 30 minutes away and the plumber did a great job fixing our problem. Great friendly service all around.
- Greg R.