Experts You've Trusted For Over 80 Years
Open 24/7, Call Now
Open 24 Hours, 7 Days a Week

Trusted & Recommended since 1935
Our Services
Emergency Service
Water Heaters
Plumbing and Drains
Madison Plumbing & Drain Solutions: Licensed Madison Plumber Available 24/7 Providing Emergency Plumbing and Drain Services
Roto-Rooter is a licensed plumber in Madison, WI offering full-service plumbing repair and maintenance 24 hours a day, seven days a week. From drain cleaning to toilet clogs, water heaters to new installations, our experienced Madison plumbers can do it all – on your schedule. To schedule an appointment with our experienced plumbers please call our Madison plumbing office at 608-256-5189.
In addition to quality plumbing maintenance and repairs, your local plumber in Madison can also provide you with a free, accurate estimate – so you can budget for the work and won't have any surprises when the final bill arrives. Best of all, because we stand behind our estimates, as well as our workmanship, you can rest assured that you'll get the quality plumbing repairs you need.
Operated as an Independent Franchise - All available services, hours of operations, pricing structure, and guarantees may vary by location
Why Choose Roto-Rooter
We will take care of all your plumbing & drain cleaning needs.
Emergency Service

Available 24/7

Full Service Plumbing, Drain Cleaning

Trusted & Recommended since 1935
Plumbing Services Offered
Homeowners everywhere have relied on Roto-Rooter since 1935 for honest and professional advice on all types of plumbing and drain cleaning services. Large jobs or small, we do it all:
Homeowners everywhere have relied on Roto-Rooter since 1935 for honest and professional advice on all types of plumbing and drain cleaning services. Large jobs or small, we do it all:
Learn More from Us
Check out our blog for all your plumbing or drain questions.
YOU HAVE QUESTIONS, WE HAVE ANSWERS.
Read our most frequently asked questions for all your plumbing needs.
Read Our Faqs
Recent Customer Reviews
Rated 5.0 out of 4 reviews
I was so impressed with the efficiency, competence and affordability of Roto-Rooter service. Our basement floor drain overflowed and Aaron not only diagnosed and fixed the problem, but showed me ... exactly what he did and what I could try on my own if this happened again down the road. A really friendly, easygoing, and professional experience. Highly recommended!
Hillarie H.
I rarely write reviews but I was really impressed with Ryan's professionalism and friendliness. As a female homeowner, I really appreciated that he explained to me what he would be ... doing and how the plumbing worked in my basement. He also explained to me the different types of pipes and how he would determine what was causing the backup. He was very thorough and made sure everything was draining properly before he left. I think he went above and beyond what I expected and for that I had a great experience and am very thankful I went with Roto Rooter for a weekend basement emergency!
Erika H.
My sewer line backed up due to tree roots this past Sunday 6/10/18. I called the Service Line Warranty folks and was told that Madison service shops did not open ... until 8 or 9 am on weekend mornings. They also said that they'd expedite my request, so I expected to hear from someone by 9 or 10:00 am at the latest. No one called, so I called Service Line Warranty around 11:30 am. They said that they had contacted Roto Rooter here in Madison and that they had accepted the call. I asked when they had done this and they told me 10:45 am their time (9:45 am here). So why the wait beyond the time they told me shops here in Madison open? What does expedited service mean? A little before noon I got a call from the local Roto Rooter service person. He said that he was the only person working for the entire Madison area and was backed up. He arrived a little after 2:00 pm and by 3:00 pm my sewer was unplugged. His name is Ryan and he apologized for the delay. He was very friendly, worked hard, and was efficient. I rate him at 5 stars but give the Service Line Folks zero stars for their handling of my call. I felt misled for having waited all morning for a contact of some sort, and then for half the afternoon. I've provided this detail because of the many Madison residents forced to subscribe to this Service Line Warranty arrangement. Hopefully, they handle their calls better during weekdays. Again, 5 stars for Ryan at Roto Rooter and zero for Service Line Warranty.
Kim P.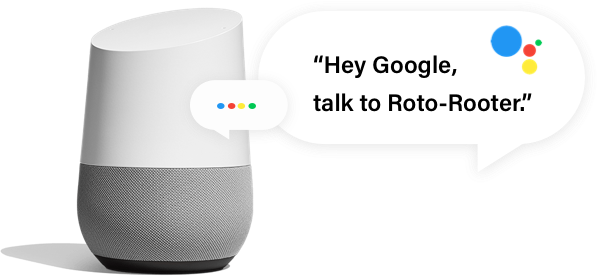 SCHEDULE SERVICE or ASK DIY QUESTIONS WITH VOICE
START WITH YOUR GOOGLE HOME or ALEXA
It's as easy as 1, 2, 3!
Complete the form below so we can schedule your service appointment.
You will receive an email confirming your appointment details.
We will contact you prior to the technician's arrival
Customer Testimonials
Everything went smoothly from the initial appointment to finishing the job. Roto-Rooter was friendly and informative in setting up the appointment. They called when they were 30 minutes away and the plumber did a great job fixing our problem. Great friendly service all around.
- Greg R.