Experts You've Trusted For Over 80 Years
Open 24/7, Call Now
Open 24 Hours, 7 Days a Week
Our Services
Emergency Service
Water Heaters
Plumbing and Drains
Kennewick Plumbing & Drain Solutions: Licensed Kennewick Plumber Available 24/7 Providing Emergency Plumbing and Drain Services
Roto-Rooter is a licensed plumber in Kennewick, WA offering full-service plumbing repair and maintenance 24 hours a day, seven days a week. From drain cleaning to toilet clogs, water heaters to new installations, our experienced Kennewick plumbers can do it all – on your schedule. To schedule an appointment with our experienced plumbers please call our Kennewick plumbing office at 509-783-7311.
In addition to quality plumbing maintenance and repairs, your local plumber in Kennewick can also provide you with a free, accurate estimate – so you can budget for the work and won't have any surprises when the final bill arrives. Best of all, because we stand behind our estimates, as well as our workmanship, you can rest assured that you'll get the quality plumbing repairs you need.
Operated as an Independent Franchise - All available services, hours of operations, pricing structure, and guarantees may vary by location
Why Choose Roto-Rooter
We will take care of all your plumbing & drain cleaning needs.
Serving the entire Kennewick metro area, Including:
Counties
Benton

,
Franklin

,
Walla Walla
Plumbing Services Offered
Homeowners everywhere have relied on Roto-Rooter since 1935 for honest and professional advice on all types of plumbing and drain cleaning services. Large jobs or small, we do it all:
Homeowners everywhere have relied on Roto-Rooter since 1935 for honest and professional advice on all types of plumbing and drain cleaning services. Large jobs or small, we do it all:
Learn More from Us
Check out our blog for all your plumbing or drain questions.
YOU HAVE QUESTIONS, WE HAVE ANSWERS.
Read our most frequently asked questions for all your plumbing needs.
Read Our Faqs
Recent Customer Reviews
Rated 5.0 out of 4 reviews
Roto Rooter and John Ball of Kennewick, WA did a great job for us. The toilet and bathtub started backing up at my parents' house in Kennewick, WA while my ... sister and her husband and two children were visiting from out of town. We called Roto Rooter and they arrived at their specified appt. time. Our technician was John Ball. He was very through, professional and explained things very thoroughly He was very knowledgeable. It was so hot outside, near 100 but he kept on going and figured out that when the city was previously working on an issue with the pipes in front of the house in the cul de sac months earlier, they damaged a pipe that connected with ours. The water had been able to drain slowly but enough to get through when it was just my parents were using water, but when four more people were using that's when the issue occurred. He used a camera and found the issue and marked where the damage was located out in the street which was right under the area where the city had done their work. The city actually admitted they had caused the damage thanks to John's photos, explanation and knowledge. We got lucky, John saved my parents thousands and thousands of dollars.
Kristine K.
I wanted to say 2 things. First, I am totally impressed by your professionalism. The crew that came to my house (5 days) were very courteous, respectful ... and thorough. They did an amazing job and explained all the issues with my system so that I could understand what needed to be done and the expediency of the work needed. They left my yard in great shape and went above and beyond the estimate I was given. Great group of men and very nice. Second, I was reviewing my estimate to get ready for the accountant and I realized one item of the estimate was to drain the septic tank. I had the septic tank drained the week prior to the estimate being created and the work did not having to have it drained a second time. My question then is was I charged for the second draining that was included in the estimate?? I tell everyone what a great job the team did and how impressed I am with your professionalism. Thank you for the service you provide.
Barbara T.
great service! timely, professional. communicated the situation from beginning to end. Call on them call the time.
Michael P.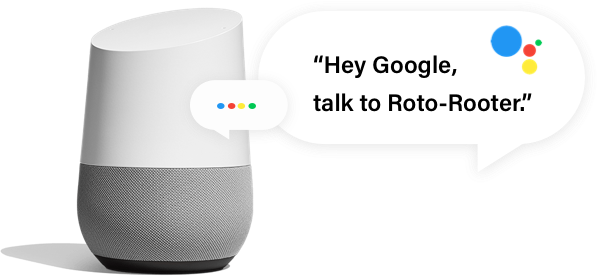 SCHEDULE SERVICE or ASK DIY QUESTIONS WITH VOICE
START WITH YOUR GOOGLE HOME or ALEXA
It's as easy as 1, 2, 3!
Complete the form below so we can schedule your service appointment.
You will receive an email confirming your appointment details.
We will contact you prior to the technician's arrival
Customer Testimonials
Everything went smoothly from the initial appointment to finishing the job. Roto-Rooter was friendly and informative in setting up the appointment. They called when they were 30 minutes away and the plumber did a great job fixing our problem. Great friendly service all around.
- Greg R.