Roto-Rooter is learning how to be a greener company. We have an entire catalog of green plumbing products and parts to help our customers achieve their conservation goals. Here is a partial list of what Roto-Rooter's ROTOGreen program offers: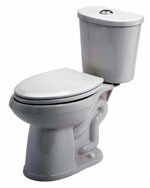 New High-Efficiency Toilet (HET)
A WaterSense labeled HET flushes with just 1.28 gallons of water
Roto-Rooter can get and / or install any brand and model
Uses 20% less water than 1.6 GPF toilets
Has as much flushing power as standard 1.6 GPF toilets, thanks to advanced toilet design
New Dual-Flush Toilet
Uses two buttons or handles to flush two different amounts of water
A low-volume flush (usually .08 gallon) is selected for clearing liquids from the bowl
A full-power flush (1.6 gallons) is selected for removing solid waste from the bowl
Saves a family of four up to 15,000 gallons of water per year over an old 3.5 GPF toilet
Water-Saving Residential Toilet Fill Valve
HydroClean®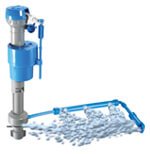 Proven to reduce water usage in existing toilets by up to 36% without sacrificing flush power!
Saves even more water when combined with HydroRight® dual-flush converter
Solves the two biggest reasons for water loss in toilets – miscalibration and leaks
Cleans the tank and flapper with powerful jets, prolonging the life of all internal components
Automatic leak detection continuously monitors toilet sustainability and signals when a leak occurs
Accurate calibration typically saves an average of 30 ounces per flush in high-efficiency toilets and 60 ounces in older toilets
Saves up to 8,050 gallons of water / $58 per year for an average family of four when retrofitted to 3.5 gallons per flush (GPF) toilets. That's equivalent to a free month of water for most families*
*Based on estimated average combined water & sewer rate of $7 per 1000 gallons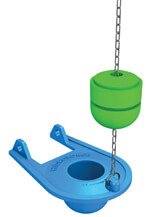 Water-Conserving Toilet Flapper Valve
HydroForce®
Optimizes the toilet for full flush efficiency – saving significant amounts of water
Engineered for long life and to withstand extreme water conditions
Chemically optimized to resist chlorine and other harsh water additives which cause ordinary flappers to leak and waste water
Flappers are the source of more water leaks than any other toilet component. If your toilet has the wrong flapper, it could be wasting water with every flush, even if the toilet was designed for high-efficiency
Residential Toilet Dual-Flush Converter
HydroRight™
Converts standard toilets into water-saving, two button toilets
Selecting the proper flush saves water because a full tank flush is not necessary four out of five times
Uses up to 70% less water with the quick flush for liquids and paper
Replaces problem handles and chains with strong, reliable buttons
Replaces the flapper – the biggest source of leaks
Saves a family of four up to 15,000 gallons of water / $105 per year*
*Based on estimated average combined water & sewer rate of $7 per 1000 gallons
Commercial Toilet Dual-Flush Converter
Sloan® UpperCut™ Dual-Flush Handle
Converts standard 1.6 gallons per flush (GPF) commercial toilets into water saving dual-flush toilets
Retrofits to most any existing Flushometer valve
Lifting handle UP initiates a reduced flush (1.1 gallons per flush) for liquids and paper
Pushing handle DOWN initiates a full flush (1.6 gallons per flush) for solids and paper
Antimicrobial coating on handle protects against germ transmission
Distinctive green colored handle signifies water conserving fixture
Comes with two attractive instructional placards to educate the user on proper operation
Reduces water volume by up to 30% or 1/2 gallon per flush when activated UPWARD
Urinal Green Performance Upgrade
Sloan® "Royal" Performance Kit
Reduces flush volume on older urinals from 1.5 gallons per flush to just ½ gallon per flush.
Brings old urinals up to EPA WaterSense Program standards
Saves an average of 4,600 gallons of water per year, according to EPA
Can contribute up to 2 points toward LEED green building certification (credit 3.2)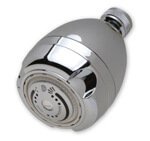 Next Generation Low-Flow Showerheads
Niagara®
Uses only 1.5 gallons per minute (GPM) – saves 1 to 4 GPM over conventional heads without sacrificing comfort or shower quality
Conserves water and saves money while enhancing pressure, performance, appearance and luxury
9-jet turbo massage is adjustable: gentle needle spray to forceful jet
Constant flow rate regardless of water pressure
Less strain on water heater = $143 annual energy savings with electric water heater and $91 with gas water heater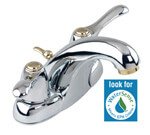 EPA WaterSense Bathroom Faucets
A new WaterSense faucet uses a maximum of 1.5 gallons per minute (GPM) compared to the old standard of 2.2 GPM
Uses 20% less water than a standard faucet
Comes in a wide variety of styles from a long list of manufacturers
Roto-Rooter can get and / or install any bathroom faucet
Water Saving Faucet Attachments / Aerators.
Roto-Rooter can cut your old faucet's flow from 2.2 gallons per minute (GPM) to 1.5, 1.0 or even 0.5 GPM
Flow reducing attachments can save a substantial amount of water
Save on water and sewer bills by making your old faucet more efficient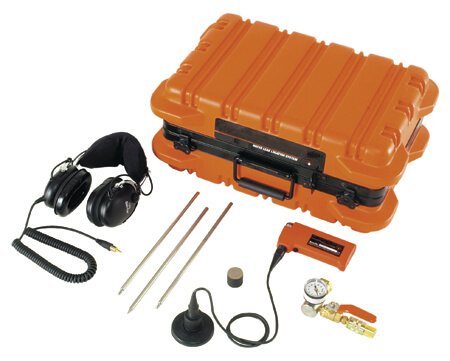 Water Leak Detection
Water leaks cost you money on every water and sewer bill
Roto-Rooter's experienced plumbers can detect leaks in fixtures, behind walls, even underground
Sophisticated leak detection equipment allows Roto-Rooter to quickly find costly leaks and give you honest repair options
Sewer Solutions
Damaged sewer pipes with cracks or voids allow raw sewage to leach into the surrounding soil
Sewer leaks may contaminate ground water supplies and cause serious environmental damage
Roto-Rooter can inspect any sewer pipe from the inside by sending a small fiber optic video camera through the pipe
You will get to see the condition of your sewer on a video monitor
Roto-Rooter will provide you with a variety of repair or replacement options
Trenchless sewer replacement is an environmentally-friendly option that won't disturb trees, landscaping, sidewalks or driveways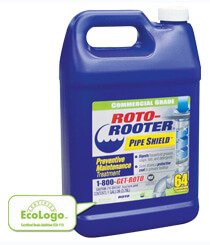 Roto-Rooter Pipe Shield®
A concentrated preventative maintenance product for keeping household drains clean
Uses special "good bacteria" that creates enzymes which effectively digest fat, oil and grease that builds up in drains and eventually causes clogs
An EcoLogo certified green product
Treats the entire plumbing system, not just the sink trap
You can buy Pipe Shield from your Roto-Rooter service technician or order it on-line in select areas
Whenever possible, Roto-Rooter will promote and make available the latest green plumbing products and services. Some Roto-Rooter locations are now installing solar water heating systems and performing other advanced green services such as rainwater harvesting and gray water reclamation. We will expand these programs nationally as demand for them increases and technology becomes more affordable and user friendly.
Roto-Rooter proudly uses green plumbing parts and fixtures from many expert providers, including:


Daily Tips