Pipes, drains and other openings can be dangerous for cats, dogs and wildlife
Roto-Rooter is often called upon to save pets and wildlife stuck in precarious and oftentimes dangerous situations. Our expert technicians use state-of-the-art machinery, drain/sewer video cameras and even industrial excavation equipment to save the life of an animal in danger. We do all of this work for free* when called upon, seeing it as our duty to the communities we serve. If you think your home or business has drains or pipes that are easily accessible to your dog, cat, or wildlife, contact your local Roto-Rooter. Our professional plumbers can tour your property, assess vulnerabilities and help you find solutions that will keep your property working properly and keep your animals safe. Call the experts at Roto-Rooter for emergency pet rescue service!
*At participating locations. Applies to pet rescue service only.
Featured Article
Our employees are amazing! See some of our most recent animal rescues from the winter of 2021.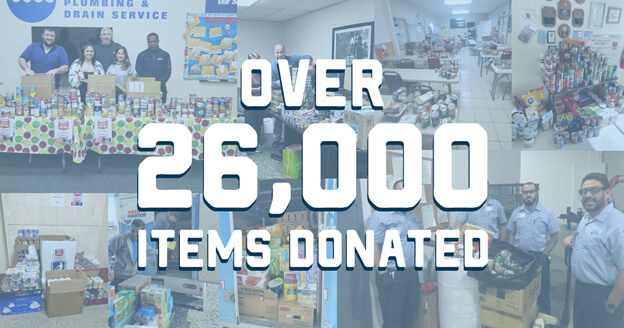 GIVING THANKS FOOD DRIVE
Roto-Rooter branches across the country participate in our annual Pet Rescues Giving Thanks Food Drive each November. Customers can donate 2 canned goods in return for 10% off any plumbing or drain service (up to $60 off) at participating locations. The canned goods can be human or pet food – we will make a donation to a local food bank as well as your neighborhood Humane Society or pet shelter.
Employee Spotlight
NIR Balinco
Drain Technician - Middlesex Branch
How long have you been with Roto-Rooter?
I've been with the Middlesex Branch for four years.
Do you have pets?
We have three dogs: Lucy is a 6-year-old dachshund that we rescued from a shelter when she was 2. Ricky & Nicky are Yorkies that are brothers that are both 2 and a half year-old years old. We got them when they were 9 weeks old from an older woman who couldn't keep the pups. My wife and I have four kids but our three dogs are our fur babies.
Craziest item/animal/etc you've found in a drain?
The craziest animal and most exciting was a kitten in distress that we saved from a storm drain at an apartment complex this past May. We dealt with the unknown at first, we didn't know what we were dealing with, the length and depth of the drains, the size of the cat, if he's hurt or not. The local police, fire department and animal control all said there was nothing they could do. After several attempts we were able to rescue the kitten. Because it was a stray, I was actually able to get it veterinary care and bring it home!
Previous Employee Spotlights: