Our food drive
Roto-Rooter locations across the country participate in our annual Giving Thanks Food Drive each November. Since we launched the food drive three years ago, we have collected over 100,000 items for local food banks and pet shelters. This year, we have set a collection goal of 30,000 items.
Customers can help by donating 2 non-perishable items to receive $75 off any plumbing or drain service*. Donations may be either human or pet food and we'll make sure they get to a local food bank or neighborhood pet shelter in time for the holidays.
*Plumbing and drain service only. Offer cannot be combined with other discounts. Offer valid at participating locations.
4,000+ employees participating
100,000+ total items collected
How to Participate
Schedule your service between November 1st and November 30th!
Give your cans to your technician at the end of your service.
Your technician will apply your coupon to your service.
Food Insecurity in the U.S.
Food insecurity is defined as a lack of consistent access to enough food for every person in a household to live an active, healthy life. According to the USDA, more than 34 million people, including 9 million children experience food insecurity in the United States.
KEEP FOOD BANK SHELVES STOCKED
There are thousands of food banks and pantries across the nation that are dedicated to feeding the hungry in their respective local areas. However, many of these organizations rely on charitable donations from other community members to support their efforts and keep the shelves stocked.
RAISE AWARENESS ABOUT FOOD INSECURITY
Many who are financially sound oten wildly underestimate the degree to which hunger impacts the nation and even their own communities. Organizing a food drive is a great opportunity for raising awareness about the extent of the problem and the huge need for food and funding.
Best donation items
Local food banks are open to all donations but, if possible, food items with nutritional density are the best option. In many cases, the most affordable options for those with food insecurities, aren't the healthiest and don't provide the nutrition necessary to stay full and physically well. Here are some of the best items that you can donate to help.
Canned fruits, vegetables, or beans

Canned tuna, salmon, or chicken

Canned soup, stew, broth, or pasta sauce

Packaged foods such as seeds, nuts, oats, granola, rice, quinoa, or pasta

Plastic jar foods including nut/seed butters, jelly, or cooking oil

Personal Hygiene Products

Pet food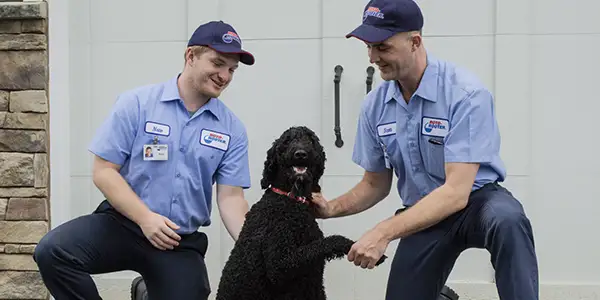 Roto-Rooter Pet Rescues
Over the years, Roto-Rooter has been committed to helping our furry friends in need through our Pet Rescues program. During the annual Giving Thanks Food Drive, we offer customers the option to donate pet food items which we make sure to drop off at the local animal shelter.