It's a fast, economical way to ensure free-flowing drains. Pipe Shield® prevents materials from building up in your drains and causing clogs. Pipe Shield's exclusive formula uses natural bacteria to breakdown deposits, so it's safe for the environment. When used as directed each month, buildup can be prevented for up to 30 days
Roto-Rooter® Pipe Shield®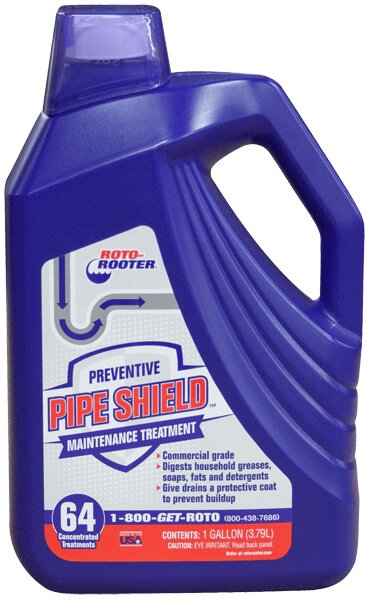 Pipe Shield doesn't remove clogs—it actually prevents organic materials such as fats, grease, soaps, and detergents from building up in your drain and causing clogs. It's an easy and economical way to keep clogs from recurring. Just one gallon (128 oz.) provides 64 treatments when used as directed.

Over time, food, waste and other organic materials begin to build up in pipes. Slow-running drains or clogs are inevitable.

After six months of regular treatments with Roto-Rooter Pipe Shield, drains and pipes flow freely throughout the whole system!
Powerful Clog Prevention That's Safe for the Environment
Pipe Shield is specifically formulated with the environment in mind, that's why our active ingredient is a natural biological solution that contains no harsh or toxic chemicals. And, Pipe Shield treats the whole plumbing system, not just the sink trap, to keep drains flowing freely, for up to 30 days.
The NSF has approved our Pipe Shield product, which means that it is safe to use around food products.
How to Use Pipe Shield
Apply once a month to kitchen, bathroom, shower, tub and other drains. Add 2 oz. (1/4 cup) of Pipe Shield to 32 oz. (4 cups) of warm water and pour into drain. Let it stand overnight, then flush with hot water for one minute. For problem drains, use Pipe Shield once a week.
Download SDS Sheet - English (PDF)
Download SDS Sheet - Spanish (PDF)
Download SDS Sheet - French (PDF)
Customer Reviews
Purchased another gallon of Pipe Shield. Have been using this product for maintenance since 2010 and am very pleased with our trouble free drains.
John K.
I ordered Roto Rooter Pipe Shield over the phone and Roto Rooter delivered to our home. The Roto Rooter driver called ahead to say that he was

...
Read more
Judith M.
Frequently Asked Questions
What drain cleaning product could I use to get my drains flowing better?
We recommend an enzyme-type product, such as Roto-Rooter Pipe Shield®. The natural enzymes eat the grease and hair and keep the pipe from filling with sludge. Pipe Shield's exclusive formula uses natural bacteria to breakdown deposits, so it's safe for the environment. When used as directed each month, build-up can be prevented for up to 30 days. Pipe Shield® is available only from Roto-Rooter locations.
I have a jug of Roto-Rooter® Pipe Shield® liquid drain cleaner. The directions say I should mix two ounces of Pipe Shield® with 32 ounces of water. When I do this, should the total of 34 ounces be applied to each drain or to all seven drains in my house?
You pour a portion of the 34 ounce solution into each drain once a month. A little bit of Pipe Shield® goes a long way. Depending on how many drains you have in your home, your Pipe Shield® could last a year or more.
Is RootX® something I can flush down my toilet or is that something Roto-Rooter or a professional should handle?
We recommend hiring a professional to apply RootX. However, you can do it yourself, but please read the instructions carefully before using. Flushing drain cleaning products down the toilet can cause additional problems if not done carefully. This product works best when applied through a sewer clean-out port with the water running. A two pound container provides effective drain care for the first 50 feet of a 4-inch sewer main.