When used with a special time flow meter this product eliminates "sugar snakes"... those buildups in the drain lines of beverage stations dispensing soft drinks, soft serve ice cream or any sugar-laden product. Sugar Residue Digestant is non-toxic and NSF-approved, so it's safe for use around food areas.
Roto-Rooter® Sugar Residue Digestant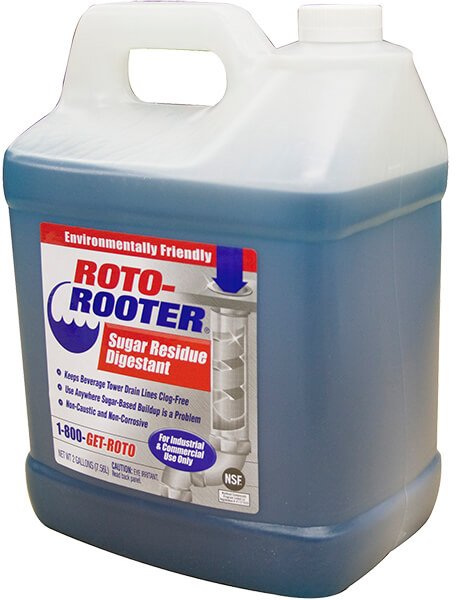 Online purchase is not available.
Contact your local Roto-Rooter to purchase this product.
Call 800-768-6911
Roto-Rooter® Brand Sugar Residue Digestant is an exclusive formula sold in two-gallon containers. The Roto-Rooter® time flow meter dispenses the product using a special metering device and an additional "misting unit" that ensures proper delivery of the treatment.
Why do I need Sugar Residue Digestant?
Fast food restaurants, hotel restaurants, pubs, convenience stores and grocery stores all have a common problem. It's known as "sugar snake," the result of carbohydrates (sugar) from soft drinks and other sugarladen products building up inside drain lines. This leads to backups, costly emergency plumbing services and odor problems. Regular use of Roto-Rooter® Brand Sugar Residue Digestant (SRD) eliminates these problems.
Potential users of Sugar Residue Digestant include:
Restaurants
Bars
Soda Pop Distribution Centers or Plants
Auditoriums
Hotels
Grocery Stores
Convenience Stores
Ice Cream Factories or Retail Stores
Stadiums
Sugar Residue Digestant is:
Non-toxic, non-corrosive to humans and pipes
Fast-acting and provides residual preventive maintenance for problem drain lines
Used anywhere high sugar/carbohydrate food substrates are created or processed
Different from drain and grease trap treatment product
It's not just a product … It's a system
A Roto-Rooter® time flow meter with a special "misting" attachment virtually eliminates the buildup of sugar residue in your drain lines. It automatically dispenses the Sugar Residue Digestant into your line throughout the day – no mess, no worries. Sugar Residue Digestant is non-caustic, non-corrosive and environmentally friendly.
Fast results!
Roto-Rooter Sugar Residue Digestant acts fast – usually within 24 hours. The special misting unit ensures that Roto-Rooter® Sugar Residue Digestant completely coats the walls of the drain line to help solve the problem quickly.
Download SDS Sheet - English (PDF)
Download SDS Sheet - Spanish (PDF)
Online purchase is not available.
Contact your local Roto-Rooter to purchase this product.
Call 800-768-6911
Customer Reviews
Purchased another gallon of Pipe Shield. Have been using this product for maintenance since 2010 and am very pleased with our trouble free drains.
John K.
I ordered Roto Rooter Pipe Shield over the phone and Roto Rooter delivered to our home. The Roto Rooter driver called ahead to say that he was

...
Read more
Judith M.
Frequently Asked Questions
What drain cleaning product could I use to get my drains flowing better?
We recommend an enzyme-type product, such as Roto-Rooter Pipe Shield®. The natural enzymes eat the grease and hair and keep the pipe from filling with sludge. Pipe Shield's exclusive formula uses natural bacteria to breakdown deposits, so it's safe for the environment. When used as directed each month, build-up can be prevented for up to 30 days. Pipe Shield® is available only from Roto-Rooter locations.
I have a jug of Roto-Rooter® Pipe Shield® liquid drain cleaner. The directions say I should mix two ounces of Pipe Shield® with 32 ounces of water. When I do this, should the total of 34 ounces be applied to each drain or to all seven drains in my house?
You pour a portion of the 34 ounce solution into each drain once a month. A little bit of Pipe Shield® goes a long way. Depending on how many drains you have in your home, your Pipe Shield® could last a year or more.
Is RootX® something I can flush down my toilet or is that something Roto-Rooter or a professional should handle?
We recommend hiring a professional to apply RootX. However, you can do it yourself, but please read the instructions carefully before using. Flushing drain cleaning products down the toilet can cause additional problems if not done carefully. This product works best when applied through a sewer clean-out port with the water running. A two pound container provides effective drain care for the first 50 feet of a 4-inch sewer main.