RootX® kills tree and shrub roots in sewer lines, storm pipes and septic systems, and prevents root regrowth. Available only through a plumbing professional, the patented RootX formula foams on contact with water to fill the inside of the pipe to reach all root growth. RootX is non-systemic and has no negative effects on the environment. Annual RootX treatments will help keep your drain system free of root growth and flowing freely.
RootX®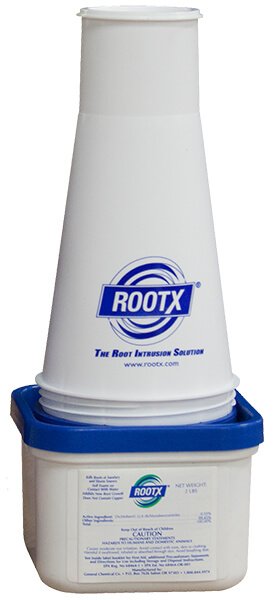 Online purchase is not available.
Contact your local Roto-Rooter to purchase this product.
Call 800-768-6911
Protect your sewer system
RootX is a non-systemic, patented chemical root control formula. It kills only the roots it comes in contact with and does not harm pipes, septic systems or the rest of the plant or tree outside of pipes. Annual RootX treatments keep your plumbing system root free and will help avoid costly sewer line and septic tank repairs.
Professional application
RootX is applied by a plumbing professional through an outside sewer cleanout or toilet. The two dry ingredients foam on contact with water to reach the top of the pipe where 90% of roots are found. The foam penetrates the roots and begins to kill them within the first hour after application. The RootX foam leaves behind a thin herbicide coating on pipe surfaces to prevent root regrowth for up to one year.
Safe for the environment
The active ingredient in RootX is Dichlobenil, a proven aquatic herbicide. RootX is non-caustic, non-fumigating and contains no diquat dibromide, copper sulfate or metam sodium, which are harmful to the environment. RootX has been accepted by the EPA for use in all 50 states and passed the EPA fish and wildlife test. It's a safe and effective solution to pipeline root intrusion.
Download SDS Sheet (PDF)
Online purchase is not available.
Contact your local Roto-Rooter to purchase this product.
Call 800-768-6911
Customer Reviews
Purchased another gallon of Pipe Shield. Have been using this product for maintenance since 2010 and am very pleased with our trouble free drains.
John K.
I ordered Roto Rooter Pipe Shield over the phone and Roto Rooter delivered to our home. The Roto Rooter driver called ahead to say that he was

...
Read more
Judith M.
Frequently Asked Questions
What drain cleaning product could I use to get my drains flowing better?
We recommend an enzyme-type product, such as Roto-Rooter Pipe Shield®. The natural enzymes eat the grease and hair and keep the pipe from filling with sludge. Pipe Shield's exclusive formula uses natural bacteria to breakdown deposits, so it's safe for the environment. When used as directed each month, build-up can be prevented for up to 30 days. Pipe Shield® is available only from Roto-Rooter locations.
I have a jug of Roto-Rooter® Pipe Shield® liquid drain cleaner. The directions say I should mix two ounces of Pipe Shield® with 32 ounces of water. When I do this, should the total of 34 ounces be applied to each drain or to all seven drains in my house?
You pour a portion of the 34 ounce solution into each drain once a month. A little bit of Pipe Shield® goes a long way. Depending on how many drains you have in your home, your Pipe Shield® could last a year or more.
Is RootX® something I can flush down my toilet or is that something Roto-Rooter or a professional should handle?
We recommend hiring a professional to apply RootX. However, you can do it yourself, but please read the instructions carefully before using. Flushing drain cleaning products down the toilet can cause additional problems if not done carefully. This product works best when applied through a sewer clean-out port with the water running. A two pound container provides effective drain care for the first 50 feet of a 4-inch sewer main.