Pipes, drains and other openings can be dangerous for cats, dogs and wildlife
Roto-Rooter is often called upon to save pets and wildlife stuck in precarious and oftentimes dangerous situations. Our expert technicians use state-of-the-art machinery, drain/sewer video cameras and even industrial excavation equipment to save the life of an animal in danger. We do all of this work for free* when called upon, seeing it as our duty to the communities we serve. If you think your home or business has drains or pipes that are easily accessible to your dog, cat, or wildlife, contact your local Roto-Rooter. Our professional plumbers can tour your property, assess vulnerabilities and help you find solutions that will keep your property working properly and keep your animals safe. Call the experts at Roto-Rooter for emergency pet rescue service!
*At participating locations. Applies to pet rescue service only.
Featured Article
When Roto-Rooter's Matt Brown, of Portsmouth, Rhode Island, was dispatched to check a customer's backed up septic tank last week, he was not expecting to come home with a pet.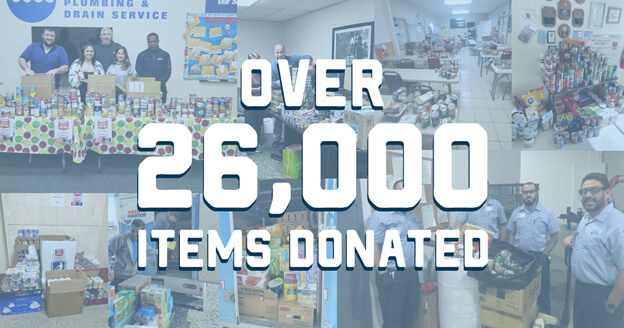 GIVING THANKS FOOD DRIVE
Roto-Rooter branches across the country participate in our annual Pet Rescues Giving Thanks Food Drive each November. Customers can donate 2 canned goods in return for 10% off any plumbing or drain service (up to $60 off) at participating locations. The canned goods can be human or pet food – we will make a donation to a local food bank as well as your neighborhood Humane Society or pet shelter.
Employee Spotlight
Michael Toms, Dispatch Coordinator
How long have you been with Roto-Rooter?
I have worked at the Baltimore Call Center since October 2016.
Do you have pets?
I have two Boxers who go by the names Peanut Butter & Jelly.
Favorite pet rescue experience?
Working with Raleigh excavation manager John Evans and his team to rescue a kitten stuck in a drain line.
Craziest item/animal you've found in a drain?
I once sent a tech to a call in Tampa attempting to rescue what a customer stated was a dog in a drain but it turned out to be a bunch of frogs.