How To Get Water Out of Your Carpet
How To Get Water Out of Your Carpet
Table of Contents
Dealing with wet carpet can be one of the most stressful parts of experiencing a water emergency in your home. But it is critical to remove water from soaked carpet and padding quickly and efficiently to prevent mold growth.
But before you begin with Step 1, you need to know what you're dealing with. There are three types of wastewater, and depending on the type of water in your carpet, you may not feel safe handling the problem on your own, there are six crucial steps you must take to minimize water damage, clean the flooded area, and get back to normal. Depending on the source of the water, it may be easy to deduce whether you're dealing with clean water or greywater. If you aren't sure, call a professional immediately.
Step 1: Remove the water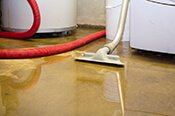 If you have standing water, such as in a flooded basement, use wet-dry vacuums or pumps to remove as much as you can. If you don't own a wet-dry vac, you can usually rent one from a local hardware store. If the area is smaller, you can use large towels to soak up water from carpet as well. Remove as much water manually as you possibly can. Continue to run the wet-dry vacuum over damp carpet slowly and carefully until no more water can be extracted.
Step 2: Dry the room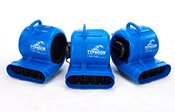 Any water-damaged furniture must be removed from the room in order to dry thoroughly. Leaving wet furniture in a flooded area prevents the room from drying out as quickly as possible, increasing the possibilities for mold and mildew growth.
Fans and dehumidifiers should be used to circulate fresh air and help with the drying process. Consider renting high-powered dehumidifiers and fans for maximum effectiveness. Depending on the weather, you can open doors and windows. If it's too humid, run the air conditioner instead to minimize moisture in the air.
Step 3: Evaluate the carpet damage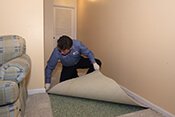 Depending on the type of water and the extent of the flood, some carpeting can be saved. The same cannot be said for wet padding, especially in greywater floods. Carpet padding is essentially a giant sponge and can absorb all manner of bacteria and harmful substances from floodwater. Ideally, as soon as possible, you should remove the carpet from the tack strip and discard padding. Get the rolled up carpet out of the house. This will allow the subfloor to fully dry as well, preventing further damage.
Step 4: Fully clean the area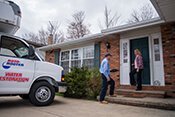 Before cleaning carpets, you must be entirely sure that carpets are fully dry. Roto-Rooter professionals can use special instruments to conduct moisture tests, identifying hidden pockets of water and areas still at risk for mold or mildew growth.
Roto-Rooter professionals have seen the devastating effects water can have on your home and family. That's why we understand the importance of prompt response times, and being available around the clock to help get your house back to normal as quickly as possible. Roto-Rooter's water restoration professionals will provide a free on-site evaluation and work directly with your insurance company to make the water cleanup and restoration experience as hassle-free as possible. While some disasters can't be predicted, if you live in an area prone to natural disasters, or have had plumbing-related basement floods in the past, there are a few things you can do to protect your home.
Monitor any areas that have had water damage in the past.
Keep the number of your local Roto-Rooter on hand at all times! Save the number to your local Roto-Rooter plumbing expert and post it near the areas most susceptible to water damage areas. Or just remember our national toll free number, 1-800-GET-ROTO.
Inspect pipes, water shutoffs, appliance connections and hoses regularly for potential leaks.
In areas prone to flood damage, install flood alarms for help with early detection and to prevent damage.