What does it take to be a Roto-Rooter Independent Contractor?
Roto-Rooter is looking for ambitious, innovative and technically competent individuals. Good management skills and a desire to grow the business are also necessary. An independent contractor must possess or be willing to obtain a plumbing license, or the independent contractor must employ a licensed plumber.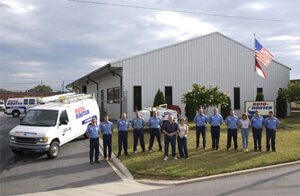 Roto-Rooter Takes the Risk Away!
Join Roto-Rooter's independent contracting team and enjoy the best of both worlds — running your own business while enjoying the support of a large national company with a famous brand name and spotless reputation with customers.
What ROTO-ROOTER Provides:
Advertising, including yellow pages
Telephone equipment and payment of monthly telephone bills
Use of the famous Roto-Rooter name and jingle
Complete computer system and software
24-hour software support line
Training on proven business methods
Identity items such as truck decals, uniform patches, etc.
Equipment, including drain cleaning machines, water jetters, cameras, backhoes, pump trucks and other heavy equipment
Management, accounting and marketing support
Established sales base

To apply, please complete the following Information Request Form (PDF)

Download Information Sheet (PDF)

Download Brochure (PDF)

Download Independent Contractor Support Team Chart (PDF)