Working for Roto-Rooter
If you're looking for a rewarding career in a skilled trade, look no further than joining Roto-Rooter as a highly sought after and skilled plumbing technician. Whether changing careers or beginning one, working for an area Roto-Rooter company-owned location or an independently-owned and operated Roto-Rooter franchise can be a highly rewarding, lucrative, and flexible career choice.
In fact, there may never be a better time to begin working for the number one plumbing and sewer & drain company (we also provide water damage cleanup services) as a professional plumbing technician. Good jobs in the plumbing trade are plentiful and skilled repair plumbers will be in high demand for many years to come. That's why salaries and benefits at Roto-Rooter are so strong. It's a simple process to begin the journey, start by exploring below or just pick up the phone and call the Roto-Rooter location where you want to begin your career in the plumbing trade.
SEE WHAT IT'S LIKE TO WORK HERE
Why Work for Roto-Rooter
What will you need to bring to the partnership? At many of our locations, you'll need to show your commitment to the job by purchasing a new or gently used service van, which we'll decal for you, and we have a reimbursement program to help you recover your van investment over time. You'll also need to provide your own basic hand tools – another investment easily paid for through plumbing jobs and program reimbursements. We'll provide your initial 12-weeks of plumbing skills training to get you ready for the road, as well as ongoing professional plumbing skills training to keep your skills sharp and up-to-date and to help you on your journey to becoming a licensed plumber.
Roto-Rooter also supplies all plumbing and drain cleaning parts, Roto-Rooter machines, uniforms, and exceptional marketing support to ensure plenty of service calls for you to answer. If you're willing to work, Roto-Rooter will provide you a career path to success and growth.
A CAREER AT ROTO-ROOTER
"People are always going to need plumbing work done. It's not something you can outsource. Once you have this trade, you will never not be able to find a job."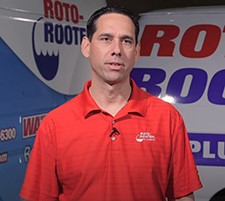 "There's a lot of intrinsic benefits that you get with the company that maybe at a smaller plumbing company, you wouldn't get."