CSR and Dispatchers
Roto-Rooter relies on its customer service representatives to communicate with customers, understand their needs, and assure them that they've called the right company for help. As the first point of contact with our company, it's important that Roto-Rooter CSRs convey confidence and competence.
The dispatchers at Roto-Rooter direct our team of plumbers and service technicians to the right locations at the right times. They work closely with our CSRs and technicians in the field to keep the service schedule organized. Roto-Rooter provides competitive wages & benefits for its CSR and dispatcher positions, and there's always room for advancement and career growth at Roto-Rooter.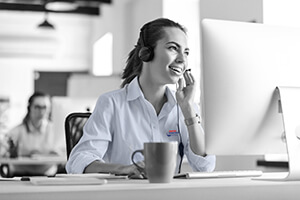 What does it take?
Great communication skills
Good organizational skills
Previous customer service experience desired, but not necessary
Frequently Asked Questions
What do Roto-Rooter CSRs and dispatchers do?
Our customer service representatives schedule service calls while our dispatchers direct service technicians to residential and commercial jobs and keep the schedule organized.
What is the work schedule like for CSR and dispatcher positions?
Roto-Rooter is a 24/7 business, so we staff around the clock in most markets. However, the majority of our calls for service come in during regular business hours, so most of the staff works during those times.
What skills are necessary?
Customer service experience is a plus, but if you have an outgoing personality, empathy, good organizational skills, and a clear speaking voice, you will succeed in this position.