Experts You've Trusted For Over 80 Years
Open 24/7, Call Now
Open 24 Hours, 7 Days a Week

Trusted & Recommended since 1935
Our Services
Emergency Service
Water Heaters
Plumbing and Drains
Welcome to Roto-Rooter. We are a full-service Modesto plumbing company that is here to help you anytime day or night. Whether you are a business owner, homeowner, apartment manager or manager of a large industrial complex, you can count on Roto-Rooter to fix it right. For over 75 years, Roto-Rooter has been available to handle all your plumbing needs, whether it is fixing a broken pipe or installing a new water main. Give us a call today for more information about how can help you get the job done right the first time.
One Company for All Your Needs
Once you know and trust a company to do the work right, why would you want to go anywhere else for extensive services? Roto-Rooter wants to establish a working relationship of trust with you. Since 1935, we have been a company you can count on to provide your plumbing needs. You can get help with any water problems you may be experiencing, whether they are for a home or a business. We can repair, install, unclog, or replace equipment, appliances and pipes in all areas including: Kitchens: dishwashers, garbage disposals, sinks, faucets. Bathrooms: toilets, showers, tubs, sinks, shower heads, clogged sinks, faucets, taps. Basements and crawl spaces: water heaters, water mains, clogged floor drains, sewer lines, sump pumps. Outside: sewer lines, water lines Whether you have a large problem or a small one, it doesnt matter. Roto-Rooter in Modesto is here to help with it all.
Operated as an Independent Franchise - All available services, hours of operations, pricing structure, and guarantees may vary by location
Why Choose Roto-Rooter
We will take care of all your plumbing & drain cleaning needs.
Emergency Service

Available 24/7

Full Service Plumbing, Drain Cleaning

Trusted & Recommended since 1935
Serving the entire Modesto metro area, Including:
Plumbing Services Offered
Homeowners everywhere have relied on Roto-Rooter since 1935 for honest and professional advice on all types of plumbing and drain cleaning services. Large jobs or small, we do it all:
Homeowners everywhere have relied on Roto-Rooter since 1935 for honest and professional advice on all types of plumbing and drain cleaning services. Large jobs or small, we do it all:
Learn More from Us
Check out our blog for all your plumbing or drain questions.
YOU HAVE QUESTIONS, WE HAVE ANSWERS.
Read our most frequently asked questions for all your plumbing needs.
Read Our Faqs
The service techs were very friendly and professional. They worked in a timely manner to rectify the stoppage issues and I appreciated the way they handled the mishaps that happened ... along the way. I would definitely rate the service as 5 star in our book and will definitely recommend the company to others.
Kathy G.
These guys are the best where I am concerned. Mario, Jason and Gabe did such a great job on a sewer line and back up problem. The fist call I ... made at 4:am and actually got a time set for that day. Jason and arrived and went staight to work. My sewer lines had been redone by I don't know who and had done a horrible job. It took them about 3 hrs. and had things flowing. With the discovery of the bad replumb I was very surprised they made it work. Well it did stop up later that night not with what they fixed, but, from the bad replumb. Called and again sent out a technician. He went right to work and found the problem with intense study of the bad replumb and shazam fixed and flowing. I give the whole company from opera tors to techs AAA. Will most definitely use the roto again. THANKS.
Randy T.
Jacob Friesen arrived at the house with a smile. Explained what was going to happen and started to work. He cleaned everything and and updated me intermittently. ... It was a Great experience...Thank you soooo much.
Deana F.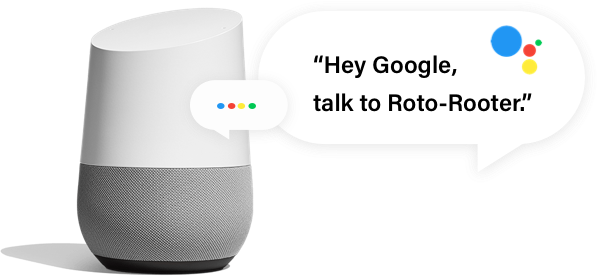 SCHEDULE SERVICE or ASK DIY QUESTIONS WITH VOICE
START WITH YOUR GOOGLE HOME or ALEXA
It's as easy as 1, 2, 3!
Complete the form below so we can schedule your service appointment.
You will receive an email confirming your appointment details.
We will contact you prior to the technician's arrival
Customer Testimonials
Everything went smoothly from the initial appointment to finishing the job. Roto-Rooter was friendly and informative in setting up the appointment. They called when they were 30 minutes away and the plumber did a great job fixing our problem. Great friendly service all around.
- Greg R.